Don't put your wallet in your back pocket 財布は尻ポケットに入れるな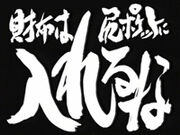 Synopsis (extracted from TV Tokyo):
スリなどで生計を立てる少年・晴太は、道ですれちがった銀時から財布をスる。しかし、中身はほとんどすっからかんだった上に、自分の財布をスり返されてしまう。結局あっさり銀時に捕まり、スリの現行犯をゆすられてパフェをおごらされるハメに・・・。その後、スナックお登勢に連行され事情を問い詰められた晴太は「遊女に会うために金が必要だった」と明かし一同を仰天させる。
Spoofs, Parodies and References
List of Characters & Seiyuus
---
Ad blocker interference detected!
Wikia is a free-to-use site that makes money from advertising. We have a modified experience for viewers using ad blockers

Wikia is not accessible if you've made further modifications. Remove the custom ad blocker rule(s) and the page will load as expected.