When dividing a Chew-Part .... チューパットを二つに分ける時はあの持つトコある奴の方がなんかイイ あそこから飲むのもオツ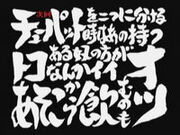 Synopsis (extracted from TV Tokyo):
Spoofs, Parodies and References
チューパット = チューチュー or Chew-chew, an iced-juice popsicle in a plastic tube

List of Characters & Seiyuus
---
Ad blocker interference detected!
Wikia is a free-to-use site that makes money from advertising. We have a modified experience for viewers using ad blockers

Wikia is not accessible if you've made further modifications. Remove the custom ad blocker rule(s) and the page will load as expected.