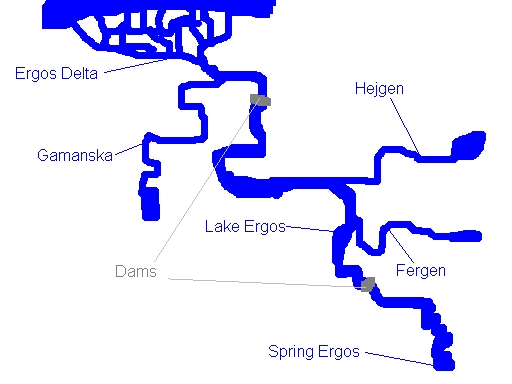 Ergos is the biggest river in Eastern Escotia, Spila. It originates in Spring Ergos, under the Hejg Mountains. In its first kilometers it is a fast mountain river, but it soon flows into Gammah Valley and starts flowing slower. A dam is built on the river to prevent the floods, so it soon becomes known as Lake Ergos. Rivers Hejgen and Fergen flow into it. Soon, there is another dam, marking the place where the lake becomes the river again. Its main tributary, Gamanska, flows into her and soon the rivers makes its famous delta, before emptying into Escotian Bay. The city of Niele is situated on the delta.
Ad blocker interference detected!
Wikia is a free-to-use site that makes money from advertising. We have a modified experience for viewers using ad blockers

Wikia is not accessible if you've made further modifications. Remove the custom ad blocker rule(s) and the page will load as expected.