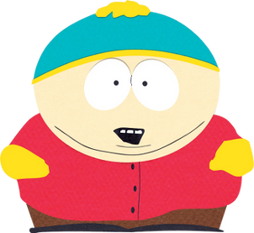 Eric Cartman
is a fictional character on the American animated television series
South Park
. He is one of the four main characters along with
Stan Marsh
,
Kyle Broflovski
, and
Kenny McCormick
. Cartman serves as an anti-hero, as he's rather rude and egotistical.
Bio
Allies: Stan Marsh (best friend), Kyle Broflovski (second best friend), Kenny McCormick (thrid best friend), Butters Stotch (fourth best friend), Wendy Testaburger (sometimes), Bebe Steven, Craig Tucker, Token Black, Clyde Donovan, Mr. Garrison, Mr. Mackey, Mr. Adler, Principal Victoria, Gregory of Yardale, Liane Cartman (mother), Randy Marsh, Sharon Marsh, Shelia Broflovski, Gerald Broflovski, Terrence and Phillip
Rivals: Scott Tenorman (former half brother), Token Black, Wendy Testaburger, Craig Tucker, Bebe Steven
Enemies: Kyle Broflovski (for calling fat), Token Black (for calling fat), Scott Tenorman, Satan (formerly), Saddam Hussiem, Damien, Shelia Broflovski (for against the canada and terrence and phillip)
Counterparts
Male version

 WARNING: You may add appropriate counterparts. But, do NOT delete any.
Foduck or Oliver (Theodore Tugboat)
Antoine D'Coolette, Knuckles the Echidna, Silver the Hedgehog or Shadow the Hedgehog (Sonic the Hedgehog)
Kevin or Eddy (Ed, Edd, n Eddy))
Mr. Plotz, Runt, Wakko Warner or The Brain (Animaniacs)
Clarence, Belson, Jeff, Nathan Mr. Noles and Sumo (Clarence)
Squidward Tentacles, SpongeBob SquarePants, Patrick Star, or Sheldon J. Plankton (SpongeBob SquarePants)
Ernie Potts or Harold Berman (Hey Arnold)
Chalky Studebaker (Doug)
Tom or Eduardo (Eddsworld)
Larry the Cucumber, Larry-Boy or Mr. Lunt (Veggietales)
Tokkori or Knuckle Joe (Kirby)
Mido (The Legend of Zelda)
Mr. Potato Head (Toy Story 1, 2, and 3)
Francis (A Bug's Life)
Rabbit (Winnie the Pooh)
Simon Belmont (Captain N: The Game Master)
Herky (Jay Jay The Jet Plane)
Yamcha,vegeta or oolong (Dragon Ball Z)
Beemo (Adventure Time)
Benson or Muscle Man (Regular Show)
Flip the Grasshopper or Stinger (Maya The Bee/Movie)
bols or honesty (akame ga kill)
chouji,killer bee or sasuke uciha (naruto)
Walter Kangaroo (Adventures of the Little Koala)
Kirby Cat (Maple Town)
Zipper Cat or Catchum Crocodile (The Get Along Gang)
Grumpy Bear or Beastly (Care Bears)
Female version

 WARNING: You may add appropriate counterparts. But, do NOT delete any.
Daisy (Thomas The Tank Engine and Friends)
Sugar (Total Drama Pahkitew Island)
Sadie (Total Drama Island)
Elmyra Duff (Tiny Toons Adventures)
Satsuki kiryuin (Kill la Kill)
Parodies

 WARNING: You may add parodies. But, do NOT delete any. Complete parodies list