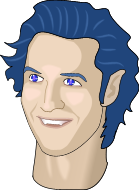 Spoilers: Erick was introduced in Yuuri's Hot Date.
Basics
AKA: Lord Trondheim
Age: ~93 (~99 in YHD)
Looks: 7'3", troll-ogre-demon-elf-goblin mix, muscular build, extremely handsome (masculine).
Character: Charismatic leader. Devoted Trond. A bit unpredictable / dangerous. Alcoholic - not always under control.
Special skills: Trond shaman. Actor. Knows how to work a crowd.
Family: Eldest son of Franklin von Trondheim by breeding arrangement with a troll-ogre from Twinhall. Erick and his sister Vedanya split their time between their parents until their mother died of alcoholism when he was ~45. Though closely related to Brendan von Gratz, we don't know the details. Second cousin to Aldrich von Bielenfeld through Erick's great-aunt Lady Alana.
Erick married his childhood sweetheart Guya'k'vriel during GoT. The couple could not have had children due to their severe size difference (Guya is an elf). But Erick's father Franklin was reincarnated as their treeborn blood child Vlad'k'vriel von Trondheim. They also adopted a treeborn pure ogre baby, Dannikin von Trondheim. Erick is determined to earn recognition for ogres as the fifth largest racial group in Trondheim.
After his mother's death, Erick tried for one painful year to pursue a nobility degree at the Bielenfeld Institute, living with Manfred von Bielenfeld. This was a disaster. Instead he worked the Trondheim mail for a few decades with Guya, mastering leadership and showmanship skills. (The Trond mail serves some bard-like functions.) He has no military experience.
Erick inherited Trondheim at age 100 when Franklin died of breeding up-troll (TwT), just after Troll Mother tried to restart a war with Shin Makoku. We learn later (GoT) that Erick and Alana were not on board with Troll Mother - if it came to war, they were secretly allied with Elvenhall against her. But - that would have meant civil war in Trondheim. Erick enthusiastically celebrates racial diversity. He's barely old enough to rule without a regent.
Erick is working with Sylvain Lord Donaghie to restore Donaghie's mines.
Stories: Yuuri's Hot Date, The Trouble with Trolls, The Ghosts of Trondheim
Dannikin - Erick's adopted fire ogre son Dannikin
Ad blocker interference detected!
Wikia is a free-to-use site that makes money from advertising. We have a modified experience for viewers using ad blockers

Wikia is not accessible if you've made further modifications. Remove the custom ad blocker rule(s) and the page will load as expected.