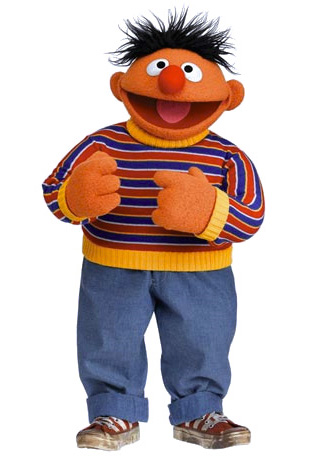 Ernie is a character from Sesame Street. He was originally voiced by Jim Henson then Steve Whitmire, followed by Billy Barkhurst and now Peter Linz.
Parodies
Counterparts
Hodge or Wilson (Chuggington)
TV Puppet Pal Clem (Dexter's Laboratory)
Bowser, Bowser Junior, Joseph, or Toad (SuperMarioLogan)
SpongeBob's Dad, Larry the Lobster, Mr. Krabs, Patrick Star, or Spongebob Squarepants (SpongeBob SquarePants)
Timmy's Dad or Timmy Turner (The Fairly OddParents)
Randy Marsh, Kyle Broflovski, or Stan Marsh (South Park)
Kermit the Frog (Muppets)
Edd, Rolf, or Johnny (Ed, Edd n' Eddy)
Pops or Mordecai (Regular Show)
Elsa the Snow Queen (Frozen)
Gallery
Ad blocker interference detected!
Wikia is a free-to-use site that makes money from advertising. We have a modified experience for viewers using ad blockers

Wikia is not accessible if you've made further modifications. Remove the custom ad blocker rule(s) and the page will load as expected.