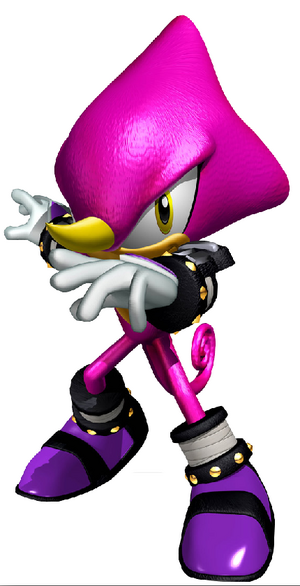 Espio the Chameleon
is a character from the
Sonic the Hedgehog
video game series.
Video Game Appearances
Knuckles Chaotix (1995)
Sonic the Fighters (1996)
Sonic Heroes (2004)
Shadow the Hedgehog (2005)
Sonic Colors DS (2010)
Sonic Generations (2011)
More Coming Soon
Bio (do not edit)
Species: Anthropomorphic Chameleon
Age: 16
Skin Color: Purple
Eye Color: Yellow
Clothing: White Ninja Gloves, Purple Ninja Boots
Friends: Vector, Charmy, Mighty, Knuckles
Enemies: Dr. Robotnik, Metal Sonic
Counterparts (Do not delete, but you can add)
Parodies
Ad blocker interference detected!
Wikia is a free-to-use site that makes money from advertising. We have a modified experience for viewers using ad blockers

Wikia is not accessible if you've made further modifications. Remove the custom ad blocker rule(s) and the page will load as expected.