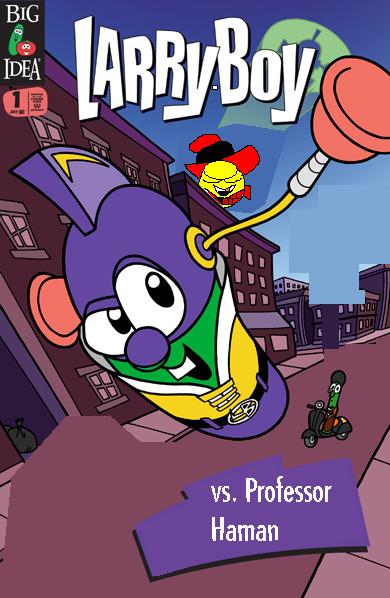 Esther in Haman's return is a sequel to Esther the Girl Who Became Queen. 
Plot
Haman escapes from the Island of Perpetual Tickling and Larryboy must stop him. Featuring "The Worst Cooks in America" from Vanna and the BITS!
Cast
Larry as Marcus the Scribe and Larry-Boy
Mr. Nezzer as King Xerxes
Scooter
Laura Carrot as Vanna Banana
Tom Grape as Himself (Cameo)
Percy as Big Red
Jimmy as Little John
Jerry as Policeman
Bob the Tomato as The Sheriff of Bethlingham (cameo)
DVD Artwork
Front Cover
LarryBoy, Alfred and Haman
Back Cover
A man falls to his death
LarryBoy swinging into view
Bottom-left corner: The Boyz in the Sink and Vanna Banana
Opening Previews
Big Idea Logo
Warning Screen
DVD menu
Why We Do, What We Do
Scene Index
VeggieTales Theme Song
Countertop Intro
Welcome Back to Persia
Haman Escapes
Larry-Boy to the Rescue
He'll Never Find Me.
"Worst Cooks in America Silly Song" by the Boyz in the Sink
The End of the World is Near
Revenge Makes You Feel Worst
The Battle Has Won
QWERTY Closer
End Credits
Closing Previews
Huhu Studios, ltd. logo
Big Idea logo
DVD credits
Ad blocker interference detected!
Wikia is a free-to-use site that makes money from advertising. We have a modified experience for viewers using ad blockers

Wikia is not accessible if you've made further modifications. Remove the custom ad blocker rule(s) and the page will load as expected.