Welcome to the Ethers Air mini wiki at Scratchpad!
You can use the box below to create new pages for this mini-wiki. Make sure you type [[Category:Ethers Air]] on the page before you save it to make it part of the Ethers Air wiki (preload can be enabled to automate this task, by clicking this link and saving that page. Afterwards, you may need to purge this page, if you still see this message).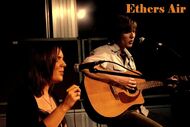 Biography
Ethers Air originate from Braintree in Essex and consist of Lee Moffatt and Melanie Ferguson, who have decided to combine their talents and play under the name of "Ethers Air". A name that came about by accident while they were travelling on a train through the country. Lee is the driving force behind the group in writing, playing and singing the songs, Mel's voice compliments Lee's perfectly for backing vocals and she plays guitar, piano and also adds percussion to most songs. Together they are creating something different within the music scene.
The band was created after Mel featured in one of Lee's gigs at "The Acoustic Lounge" in Clapham and got some great comments; they decided to try it again at "The Hermit Club" in Brentwood and were amazed with the reviews.
Since then they have been asked to play at venues throughout the summer, in and around London, including the "F*ck n Roll" night @ The Cube and Star in Shoreditch, which was listed as one of The Guardian's Pick of the Week in last month's The Guide and the Unplugged Night at High Barn in Essex which ended up as a fantastic night...
Lee & Mel gig around Essex and London and gather a real interest from all types of fans.
If you have any queries / questions / would like to book the band or would like to put on the email list for future gigs and band news then email at: mail@ethersair.com
Ad blocker interference detected!
Wikia is a free-to-use site that makes money from advertising. We have a modified experience for viewers using ad blockers

Wikia is not accessible if you've made further modifications. Remove the custom ad blocker rule(s) and the page will load as expected.