Welcome the best wiki site for European history. This site is devoted to telling the my account of almost all of Europe's history. I try wo explain why a whole continent of people hated eachother so much. Come on, what European country wasn't trying to build an empire in one point in time? Anyone visiting is welcome to add any page to the site to make it the best it can be. But really this isn't about the site it is about telling the story of the 2nd greatest continent on Earth (first being the U.S.). Keep in mind put on the site only the good topics like the French Revolution, WWI and WWII, and many others. I hope this site can be a wealth of information.
your's truly,
Dr. Alexander Rocca Phd
P.S. Even though the United States is not a continent, it will always be better than Europe.
P.P.S. Some pages may be subject to truthiness.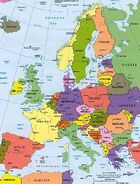 Ad blocker interference detected!
Wikia is a free-to-use site that makes money from advertising. We have a modified experience for viewers using ad blockers

Wikia is not accessible if you've made further modifications. Remove the custom ad blocker rule(s) and the page will load as expected.