Ad blocker interference detected!
Wikia is a free-to-use site that makes money from advertising. We have a modified experience for viewers using ad blockers

Wikia is not accessible if you've made further modifications. Remove the custom ad blocker rule(s) and the page will load as expected.
| | |
| --- | --- |
| Aquí podemos publicar nuestras letras, canciones, videos, imagenes y tambien podemos discutir sobre cualquier tema referente a la banda, gracias a nuestro propio sello Paranoica Distro :-) | |
Sobre la Banda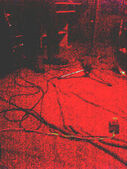 Evita empezó como un proyecto de amigos, con muchas ganas de tener una banda con un sonido de otras que nos gustaban. Hasta ahora estamos creando canciones, ya grabamos algunas que aun estan en proceso, mientras hemos tocado un par de veces. Evita se formo con intenciones de crear sonidos y letras que definieran nuestra forma de asimiliar y de habitar multiples mundos posibles.
Integrantes
Ana Paula (vocal)
Oscar (guitarra)
Jose (bateria)
Jorge (guitarra)
Lina (bajo)
La disponibilidad de los integrantes, se hace mas que todo para poder saber que dias hay ensayos o podemos programar uno.
Letras
Hecho
Conforme bien lo ha entendido
y según sus propias palabras
cuestión de seis veces.
Y dice la historia
de imparcial concluye
signo de la conciencia
es, todavia una comprobación del
que hoy tienen congestión
es lamentable esta comprobación
del que hoy tienen congestión.
Un Perro Azul
....
Te vas acabando
A veces mantengo la mente en blanco
solo para sentir que mi materia se gasta y el tiempo ayuda
los ojos duelen ahora y el sonido entorpece no se que pase despues
te vas acabando
Una Hermosa Pistola
Hazme una hermosa pistola para creer
creer en la estupida guerra
para asegurarme de acabar con mi enemigo
para no dejar en pie ningun pensamiento ajeno a mis creencias
ningun ser que apele a la diferencia
porque esta isla es solo mía, esta isla (de mierda) es la vida

Y si pretendemos...
Y si pretendemos soñar despiertos
donde termina el suelo que nos sostiene
cuales son los limites de nuestra ignorancia
lo que olvidamos dejar a un lado
el ultimo paso que nos cobro el aliento
y la seguridad de seguir de pie
De seguir esperando
de querer cambiar

Lamentable hecho
Dejate, dejate, dejate, dejate...
Que lamentable hecho, autoridades
continentales de turno y veo su gesto
de hombre puro la lengua en la que a su vez
gobernó por un no hay nada, el maestro sonreia.
Como si fuera a escaparsele
de todos los que han ejercido el poder

No hay nada, el maestro sonreia, no hay nada, como si fuera a escaparsele
Dejate, dejate, dejate, dejate...
Dejo
si te pido el cielo
es porque yo pienso
que entre tus manos cabe mi resentimiento y
todas las cosas feas que dejo solas al viento y yo...
en un mar de vientos
mezclo sentimientos

no sé de donde salen extraños caballos
que con su cuero andante buscan la manera de aferrarme,
no salgo, no suelto los hombros y no dejo caer los miedos
me suelto de las manos que un día me regalaron
y aún salgo corriendo porque no encuentro una manera
de tejer todas las fuerzas para no volver nunca
a esta cabeza que rompe, que rueda y cuenta
en vientos de dos de tres de a cuatro
y no me dejan seguir en ojos de águila
y no me dejan perder...

La Expermental
...
Letras en Borrador
Toques
Grabaciones
Influencias
pixies, at the drive-in, sonic youth, nirvana, beastie boys, rainer maria, fugazi, analena, libra, los arboles, petrograd, the breeders, foo fighters, deftones, sparta, mars volta, ant3lop3
Audio
Mensaje: Muchos de los formatos de audio y video que podran descargarse del material de evita! son libres y abiertos, por ejemplo los .ogg son formatos de video y musica que podran ser escuchados en sistemas operativos de microsoft si descargas el instalador de los codecs necesarios
Videos de Ensayos
Mensaje: Muchos de los formatos de audio y video que podran descargarse del material de evita! son libres y abiertos, por ejemplo los .ogg son formatos de video y musica que podran ser escuchados en sistemas operativos de microsoft si descargas el instalador de los codecs necesarios
---