Description
faWeb for freeAnalysis.web is web server to built hypercubes and reports from user data.
Author: Dunklau Ronan
First install : 7-mai-2007
Improvment list
SCToile
Je n'ai pas su visualiser un schéma à moi et je n'ai donc testé que sur les 2 exemples fournis
Accès à optimiser (pas de page web par défaut au lancement)
Pas de bouton "Quitter" non plus
Absence d'info bulle sur les boutons fonctions
Impossible de faire fonctionner les fonctions "clic-droit" (Delete level MoveUp et MoveDown)
Comment exporter les graphiques ?
Pour les graphiques on peut sélectionner des mesures qui ne sont pas affichées dans le cube et dans ce cas ca ne marche pas
Peut-être changer le curseur lorsque l'on fait des drills
A quoi correspond le bouton "feuille style texte" à coté du bouton supprimer les zéros ?
Dans le script "cmd.exe" de lancement, peut-être rajouter une ligne en fin de process du style "FreeAnalysisWeb est prêt"
Ajouter un menu dans les exports pour paramétrer l'entête du document
Configuration
At start link http://localhost:8080/ to http://localhost:8080/FreeAnalysisWeb/Main?newConnection=true
Impossible. Actuellement, c'est http://localhost:8080/FreeAnalysisWeb/Main. Je peux faire http://localhost:8080/FreeAnalysisWeb/ mais impossible de le mapper a la racine de jboss.
Layout
DataTree
Déplier le premier niveau de l'arbo Enlever la possibilité de driller sur le dernier niveau. Comme c'est le dernier niveau, il n'a pas de fils...
Mettre un texte "tool tip" qui apparait lorsque tu laisse la souris sur l'îcone pour savoir à quoi il correspond
        ---> FIXED in the DataGrid tab

Cube selection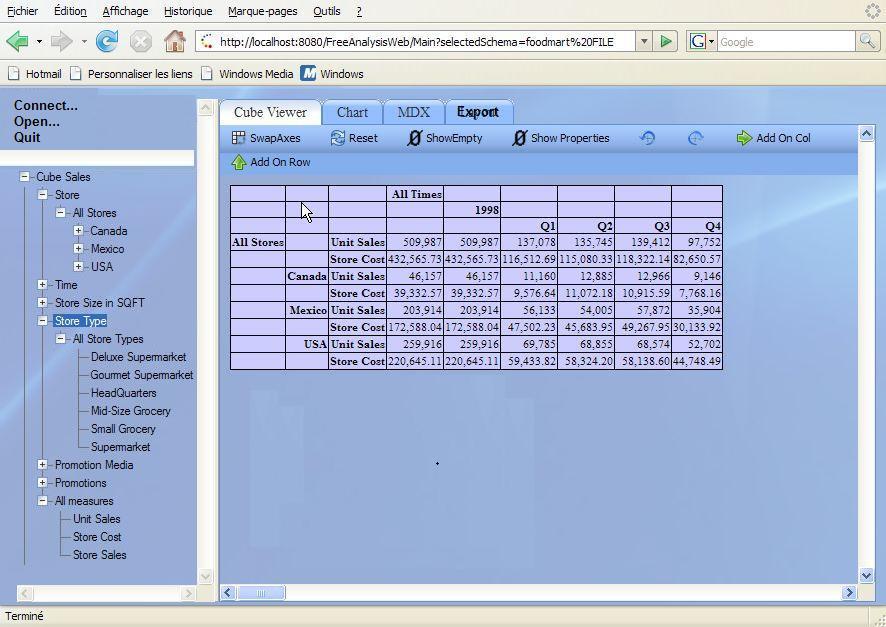 Cube/Report selection
Use a different icon for cube and for reports.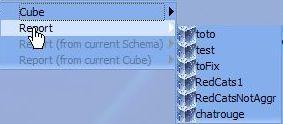 Je ne comprend pas le but du Quit... Le connect doit il servir a revenir sur la page d'acceuil ou a choisir une nouvelle connection sur la meme page ?
For worldwide distribution
Il faut lancer Jboss et HSQL à la main avant de lancer le browser. Pas de problème pour la première install, puisaue le client à un JBoss qui tourne en permanance. Mais on est loin du unZipppp qui de déroule tout seul. AlainD 11:37, 3 May 2007 (UTC)
        ---> V0.51 sur le serveur est censée regler ca

On connect
On the first con nection, need to refresh the browser, AlainD 11:37, 3 May 2007 (UTC)
    ---> seems to be fixed [RDU]

Charts option
Manque, PBM, 22/4/07 Detail: bouton pour charts 3D
    FIXED, RDU, 3/5/07

Export de rapport Freeanalysis
Needs ameliorations, PBM, 22/4/07 Detail: precision about what the report's name stand for
 FIXED RDU, 3/5/07

Drill Through Option
Manque Export Excel, PBM, 22/4/07
      FIXED RDU (V0.52)

Manque Export PDF, PBM, 22/4/07
     FIXED RDU (V0.52)

Manque Button, PBM, 22/4/07
Onglet Amélioration, PBM, 22/4/07 Detail: Drill through in a tab rather than in a popup
      FIXED RDU (V0.52)

Closure Tables
Création, PBM, 22/4/07
Ad blocker interference detected!
Wikia is a free-to-use site that makes money from advertising. We have a modified experience for viewers using ad blockers

Wikia is not accessible if you've made further modifications. Remove the custom ad blocker rule(s) and the page will load as expected.