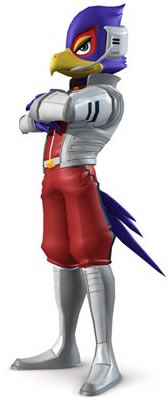 Falco Lombardi
is a vanist bird in the
Star Fox
games.
Bio
Species: Asian Phesant
Age: 30
Feather Color: Blue and Red
Clothing: White Jacket, Orange Jumpsuit, Red Bandana, White Boots
Allies: Fox McCloud (best friend), Peppy Hare, Slippy Toad, Bill Grey, Katt Monroe (girlfriend), Rob 64, General Pepper, Amanda, Krystal, Link, Zelda, Captain Falcon, Pikachu, Jigglypuff, Mii Fighters, Wii Fit Trainer
Enemies: Andross, Wolf O'Donnell, Leon Powalski, Pigma Dengar, Panther Caroso, Andrew Oikonny, Ganondorf
Quotes
"Scratch one bogey!"
"I guess I should be thankful."
"Are you gonna listen to that monkey?!"
"Shoot! He's right behind me!"
"Gee, I've been saved by Fox! How swell!"
"Hey, Einstein/genius, I'm on your side!"
"Oh, man! I'm gonna have to back off!"
"Time to show the monkeys who's boss!"
"Get out of my way!"
"Go find your own target, Fox!"
"Move it, Fox! He's right behind you!"
"Do I look like a bad guy?!"
"Don't go diein' on me!"
"Don't worry about me, Fox!"
"Learn to aim, Fox!"
"Slippy, what are you doing?! HURRY UP!!"
"What the heck is that?!"
"What the heck?! FOX! Look behind you!"
"Aww, Fox!"
Counterparts (Mario Version)
Counterparts (Star Fox Version)
Counterpart (Super Smash Bros. Version)
Gallery
Ad blocker interference detected!
Wikia is a free-to-use site that makes money from advertising. We have a modified experience for viewers using ad blockers

Wikia is not accessible if you've made further modifications. Remove the custom ad blocker rule(s) and the page will load as expected.