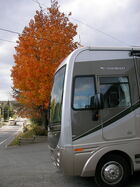 My wife and I rented a Fleetwood Southwind near Portland, Maine, on September 8th and will return it October 30th. In between, we are following the fall colors of New England and Québec. She is making quilts inspired by the colors, and I am
blogging
,
uploading photos
and
podcasting
.
Amanda Congdon's wiki for her cross-country trip to L.A. inspired me to try creating one for our Fall Foliage RV Ramble. Please feel free to add suggestions and information for our trip!
Ad blocker interference detected!
Wikia is a free-to-use site that makes money from advertising. We have a modified experience for viewers using ad blockers

Wikia is not accessible if you've made further modifications. Remove the custom ad blocker rule(s) and the page will load as expected.