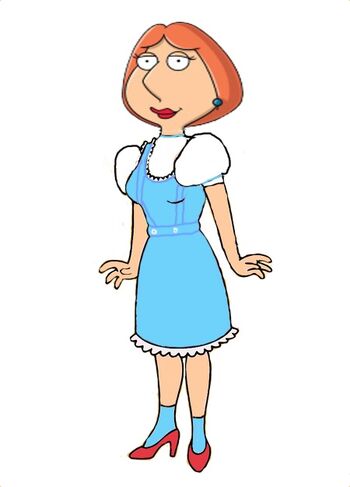 Family Guy/The Wizard of Oz
is
Family Guy
's
The Wizard of Oz
.
Cast

 WARNING: Do NOT edit or otherwise alter: Edit YOUR cast list ONLY. (See SP:CAST)

Lois Griffin as Dorothy Gale
Stewie Griffin as The Scarecrow
Chris Griffin as The Tin Woodsman
Peter Griffin as The Cowardly Lion
Brian Griffin as Toto
Bonnie Swanson as Glinda the Good Witch of The North
Angela (Peter's Boss) as The Wicked Witch of The West
Mayor Adam West as The Wizard
Glen Quagmire as Nikko the Flying Monkey
Meg Griffin as The Lullaby League of the Munchkins
Babs Pewterschmidt as Auntie Em
Carter Pewtschmidt as Uncle Henry
Mort Goldman as The Doorman of Emerald City
Cleveland Brown as The Guard of Emerald City
Mr. Herbert as The Cabbie Carriage driver
Joe Swanson as The talking Apple tree
Version 2
See also
Ad blocker interference detected!
Wikia is a free-to-use site that makes money from advertising. We have a modified experience for viewers using ad blockers

Wikia is not accessible if you've made further modifications. Remove the custom ad blocker rule(s) and the page will load as expected.