Ad blocker interference detected!
Wikia is a free-to-use site that makes money from advertising. We have a modified experience for viewers using ad blockers

Wikia is not accessible if you've made further modifications. Remove the custom ad blocker rule(s) and the page will load as expected.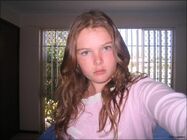 Name: Courtney
Location: Western Austrlia
Birthday: 05 April, 1995
Joined: 05 January, 2007
Courtneys's Characters
01. Hannah Wu played by Brenda Song
02. Ophelia Daniels played by Anneliese Van Der Pol
03. Dylan Carter played by Zac Efron
04. Imogen Watts played by Amanda Bynes
05. Cameron Gardiner played by Alyson Michalka
06. Mitchell Anderson played by Drake Bell
Click on the links to go their pages.
Time To Go Back
Click on this link to go back to main page.