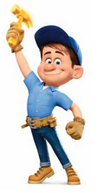 Felix and Vanellope's Silly Day is the tenth episode of the first season.
Air Date
June 10th 2014 (USA)
November 6th 2014 (UK)
November 14th 2014 (AUS)
Narrator
Plot
Felix and Vanellope are good friends they like to play Hide and Seek, and they like to go to sleep in Fix-it Felix Jr. in the Felix and Ralph's game. but one 
Characters
Transcript
Vannellope: Lady's and Gertie...
(crash)
Gene: No, it's not time for lady's and gertie...
(Zoom)
(crash)
Gene: VANNLOPEEEEEEEEEE VONNNNNNNNN SCHWEETZZZZZZZZZZ AND FIXXXXXXXXXX ITTYYYYYYYY FELIXXXXXXXXXX
Previous Episode
Next Episode
Ad blocker interference detected!
Wikia is a free-to-use site that makes money from advertising. We have a modified experience for viewers using ad blockers

Wikia is not accessible if you've made further modifications. Remove the custom ad blocker rule(s) and the page will load as expected.