Translation : Sculptor from Mechelen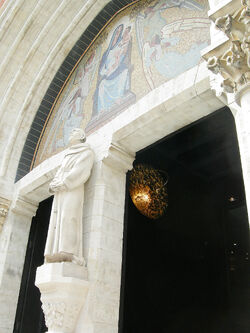 Ferdinand (Nand) Wijnants (of Wynants) was een beeldhouwer uit Mechelen.
In Mechelen behoorde Nand Wijnants tot de kring van mensen die zich met cultuur bezig hielden. In deze groep waren ook Rik Wouters, Theo Blickx en Emmanuel de Bom actief. [1]
Enkele werken
In Mechelen
Het beeld van Sint-Franciscus, dat de voorgevel siert van de Minderbroederskerk (Patershotel) in de Mechelse Karmelietenstraat, was gemaakt door Nand Wijnants. Dit beeld stond oorspronkelijk – en sinds 1928 - in een nis tegen de voorgevel van "Het Kranske". [2]
De "Eiken Zaal", in het directiegebouw van de Technische School Mechelen (TSM), bevat nog steeds een kamerhoge lambrisering. Deze lambrisering werd ontworpen door Nand Wijnants naar aanleiding van een tentoonstelling. [3]
Buiten Mechelen
De Sint-Amanduskerk in Puurs (Sint-Amands) bezit nog steeds een preekstoel uit 1924. Dit werk van Nand Wijnants stelt een predikende Sint-Amandus voor. [4]
De Torhoutse politicus Philip Van Isacker, vader van de Mechelse historicus Karel van Isacker, was in het bezit van een vrouwenfiguur, dat was opgeleverd door Nand Wijnants. [5]
Mechelse Academie
Nand Wijnants was leraar aan de Mechelse Academie. Hier werkte hij samen met de tekenaar Sander Wijnants en de kunstschilders August Gillé, Isidore Opsomer, Prosper de Troyer en Karel van Vlasselaer.
Eén van Nand Wijnants' leerlingen was de Breendonkse schilder/beeldhouwer Hendrik Vissers. [6]
Externe links
Voetnoten
Ad blocker interference detected!
Wikia is a free-to-use site that makes money from advertising. We have a modified experience for viewers using ad blockers

Wikia is not accessible if you've made further modifications. Remove the custom ad blocker rule(s) and the page will load as expected.