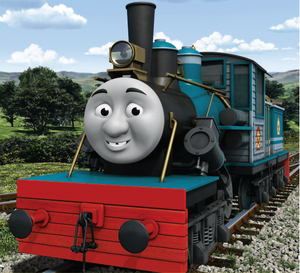 Ferdinand
is a Climax logging engine from Misty Island.
Date of Birth
Date of Death
October 31, 2015 (aged 20)
Bio
Ferdinand is a gentle giant. He is a bigger and slower engine who is able to make special tweeting sounds with his whistles. He runs on wood and oil and can often be heard saying "that's right".
Basis
Ferdinand is based on the Climax Class C logging locomotive with British-style buffers and couplings added to his front and the back of his tender. Bash and Dash
Appearances
Specials
Season 14
Thomas's Crazy Day
Jumping Jobi Wood
Merry Misty Island
Season 15
Gordon and Ferdinand
Toby and Bash
Emily and Dash
Happy Hiro
Let It Snow
Stop That Bus!
Tree Trouble
Season 16
Ol' Wheezy Wobbles
Ho Ho Snowman (mentioned)
Welcome Stafford
The Christmas Tree Express
Voice Actors
Theme
Ferdinand's theme is the roll call from the Misty Island Rescue song, which he shares with Bash and Dash.
Counterparts
Igloo or S.S. Malarkey (Theodore Tugboat) 
Mumbo Jumbo (Donkey Kong or Mario, the character is from Banjo-Kazooie)
Buddy Boar (Taz-Mania)
Wilford Wolf (Animaniacs)
Munchlax (Pokemon)
Ancient Sleeping Magic of Life (Adventure Time)
Bleeding Gums Murphy (The Simpsons)
Choo-Choo (Top Cat)
Slobber Tooth (Skylanders)
Parodies
Ad blocker interference detected!
Wikia is a free-to-use site that makes money from advertising. We have a modified experience for viewers using ad blockers

Wikia is not accessible if you've made further modifications. Remove the custom ad blocker rule(s) and the page will load as expected.