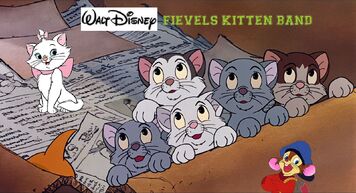 Fievel's Kitten Band
 is an animated crossover film
. It serves as the origin of it's new series 
Hidden Chronicles
. The crossover movie is also an happy and dramatic story. The crossover movie will be released in the near future.
This is a crossover movie who maked with movies crossovers:
An American Tail
Oliver & Company
The Aristocats
All Dogs go to Heaven
The Rescuers
Pinocchio
Dumbo
Tom & Jerry
Looney Tunes
The Black Cauldron
Pocahontas
Balto
Bambi
The Fox and the Hound
Robin Hood
The Jungle Book
The Great Mouse Detective
Aladdin
Doraemon
and more...
Plot
Updating...
Quotes
Updating...
Characters of the Movie Crossover
From An American Tail:

Fievel
Tanya
Yasha
Tony
Tiger
Warren T. Rat/Warren T. Cat
Digit
Gussie Mausheimer
Honest John
Wylie Burp

From Oliver & Company

Oliver
Oliver's Siblings:

Bow
Luke
Hannah
Bertha
Jeremy
Bobby
Toby

Dodger
Rita
Tito
Francis
Georgette
Einstein
Jenny
Winston
Sykes
Roscoe
Desoto
Fagin
Old Louie

From The Aristocats:

Toulouse
Berlioz
Marie
Duchess
Thomas O' Malley
Edgar
Scat Cat
Roquefort
Napoleon
Lafayette

From All Dogs go to Heaven:

Charlie
Itchy
Anabelle
Carface
Killer
Sasha
Anne-Marie

From Doraemon:

Doraemon
Dorami
Nobita
Shizuka
Suneo
Gian
Kaminari
Mii Chan

From Aladdin:

Genie
Jafar
Iago
Farouk: Apple Seller

From Dumbo:

Dumbo
Mrs. Jumbo
Timothy Q. Mouse
Jim Crow

From Pocahontas:

Meeko
Flit
Percy
Grandmother Willow

From Pinocchio:

Pinocchio
Lampwick
Jiminy Cricket
Stromboli

From The Fox and the Hound:

Young Tod
Young Copper
Chief
Widow Tweed
Amos Slade
Big Mama

From Banjo the Woodpile Cat:
From The Lion King:
From 101 Dalmatians:

Cruella De-Vil
Horace
Jasper

From The Sword in the Stone:

Merlin
Archimedes
Wart
Kay
Madame Mim
Sir Hector

From Robin Hood:

Robin Hood
Little John
Sir Hiss
Sheriff of Nottingham
Click on Fievel's Kitten Band Characters Visit.
Ad blocker interference detected!
Wikia is a free-to-use site that makes money from advertising. We have a modified experience for viewers using ad blockers

Wikia is not accessible if you've made further modifications. Remove the custom ad blocker rule(s) and the page will load as expected.