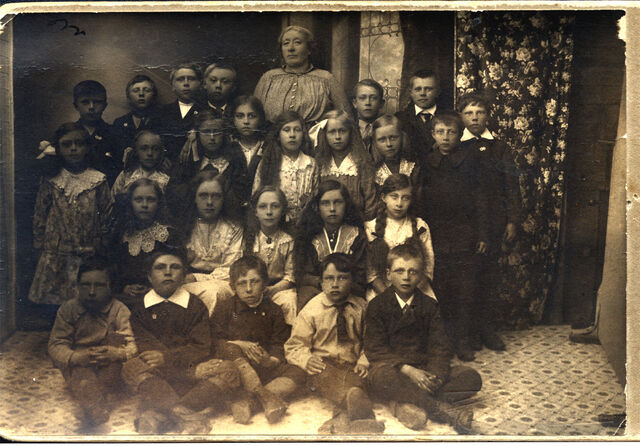 Eier: Gøran Henriksen, Finnfjord
Skolebilde Finnfjord Skole ca. 1920
Bilde e åsså publisert i Det var en gang, fotografier fra Lenvik, bind 2
Teksten der e såher:

Skolebarn fra Finnfjordbotn, Finnfjord og Øyjordområdet samlet til fotografering sammen med sin lærerinne Sofie Helle fra Naustdal i Sunnfjord. Hun underviste først i Fagerfjellet, senere pendlet hun som lærerinne mellom Sandvika, Øyjord og Vågan.
På bildet ser vi:
Første rekke fra venstre: Edmund Seglsten, Arnold Berg, Henry Henriksen, Gabriel Meyer, Reidar Gundersen.
Andre rekke fra venstre: Gudrun Olsen, Olaug Johansen, Ruth Berg, Lully Meyer, Solveig Johansen.
Tredje rekke fra venstre: Hjørdis (Tulla) Johansen, Hjørdis Hansen, Hildur Hansen, Ingjerd Johansen, Dagny Olsen, Agnes Hansen, Leander Johansen, Erling Berntsen.
Fjerde rekke fra venstre: Alfon Pedersen, Ole Angel, Arnolf Hansen, Alf Thomassen, lærerinne Sofie Helle, Lyroy Storvik og Sigurd Hansen.
Sofie Helle sluttet som lærer i Lenvik i 1927 og reiste sørover. Hun døde i 1941
Appears on these pages

of
Utsiktsbilde ca. 1960 Olaf Øwre Skoleklasse ca. 1920 Even Berntsen Ingvart Martin Henriksen...
File history
Click on a date/time to view the file as it appeared at that time.
Metadata
Ad blocker interference detected!
Wikia is a free-to-use site that makes money from advertising. We have a modified experience for viewers using ad blockers

Wikia is not accessible if you've made further modifications. Remove the custom ad blocker rule(s) and the page will load as expected.