Fiona Fox is a character from Sonic the Hedgehog.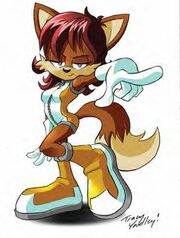 Counterparts
Judge Judy the Diesel (Thomas The Tank Engine)
Zodiac (TUGS)
The Evil Queen, Grimlihide (Snow White and the Seven Dwarfs)
Queen Banasheera or Trakeena(Power Rangers)
Messina (Freddie as F.R.0.7)
Rhubella Rat (Tiny Toon Adventures)
Queen Chrysalis Babs Seed (My Little Pony)
Maligna (Teenage Mutant Ninja Turtles)
Malificent (Sleeping Beauty)
Lilithmon (Digimon)
Bellatrix LeStrange (Harry Potter)
Kaos's Mom (Skylanders)
The Shadow Queen, Cackletta, or Princess Shroob(Super Mario Bros)
Heather or Blainley (Total Drama)
Granny (SpongeBob SquarePants)
Miss Doombringer (The Fairly OddParents)
DuBois (Madagascar)
Lust (Full Metal Alchemist)
Gothel (Tangled)
Belladonna (All Dogs Go To Heaven)
Queen Beryl (Sailor Moon)
Queen Pulsating, Bloated, Festering, Sweaty, Pus-Filled, Malformed, Slug-For-A-Butt (Earthworm Jim)
Mother Demon (DOOM)
Larxene (Kingdom Hearts)
Mother Brain (Metroid)
Dark Queen (Battletoads)
Gruntilda Winkybunion (Banjo-Kazooie)
Skarlet (Mortal Kombat)
The Red Queen (American McGee's Alice)
Biollante (Godzilla)
Zira (The Lion King)
Piella Bakewell (Wallace and Gromit)
Roodaka (Bionicle)
Rapunzel (Shrek)
Wendy(Gravity Falls)
The Queen of Hearts (Alice in Wonderland: Both are Red)
Mrs. Wormwood or Miss Agatha Trunchbull (Matilda)
Jadis (Narnia)
Counterparts (Boy version)
Dr. Robotnik, Zavok, Black Doom, Mephiles the Dark, Master Scholar, SatAM/Fleetway Robotnik, or Scourge the Hedgehog (Sonic the Hedgehog)
Diesel, Diesel 10, Diesel 11, or Steam Engine (Thomas and Friends)
The Hooded Claw (Penelope Pitstop)
Johnny Cuba, Zorran, Smelter, or Smelter X (TUGS)
Cabot, Oliver or Yami (Theodore Tugboat)
Shan Yu (Mulan)
Crud (Winnie the Pooh)
The Spider Mastermind or the Icon of Sin (DOOM)
Makunga (Madagascar)
King Sombra or Tirac(My Little Pony)
Lord Dregg (Teenage Mutant Ninja Turtles)
Marx, Magolor, or Zero-Two (Kirby)
Kaos or The Darkness (Skylanders)
Robo-Pig (Garfield and Friends)
Lord Voldemort (Harry Potter)
Tabuu (Super Smash Bros)
Black Mask (Batman)
Spider-Man. (3 Dev Adam)
Destroyah (Godzilla)
Prince Charming (Shrek)
Brad Buttowski(KIck Buttowski)
Light Yagami(Death Note)
Itachi Uticha(Naruto)
Mr. Wormwood or Michel Wormwood (Matilda)
Parodies
Ad blocker interference detected!
Wikia is a free-to-use site that makes money from advertising. We have a modified experience for viewers using ad blockers

Wikia is not accessible if you've made further modifications. Remove the custom ad blocker rule(s) and the page will load as expected.