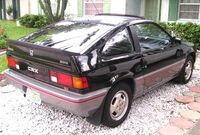 The First Generation CRX was produces from 1984-1987. It was the based off of the popular civic design with a small sportier body in mind.
So hence the CRX was born in a small compact two seater.
Models
The first generation CRX came in three different models. The SI, DX, and HF.
Engine