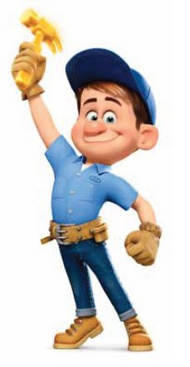 Fix-It Felix, Jr.
is the tritagonist of the film
Wreck-it Ralph
and is the main protagonist of
Fix-It Felix, Jr.
He has a crush on
Sergeant Calhoun
, who's from
Hero's Duty
, and they set out to find
Wreck-It Ralph
when he escaped.
Felix is voiced by Jack McBrayer.
Bio
Allies: Nicelanders, Gene, Sergeant Calhoun, Wreck-It Ralph, Vanellope von Schweetz, Q*bert
Enemies: Cy-Bugs, King Candy, Sour Bill (formerly)
Likes: Fixing, doing good, pies, medals, parties, Sergeant Calhoun, harmony
Dislikes: Ducks, mistreatment, confrontations, Ralph's selfishness, threats to the game
Counterparts
Gallery
See Also
Ad blocker interference detected!
Wikia is a free-to-use site that makes money from advertising. We have a modified experience for viewers using ad blockers

Wikia is not accessible if you've made further modifications. Remove the custom ad blocker rule(s) and the page will load as expected.