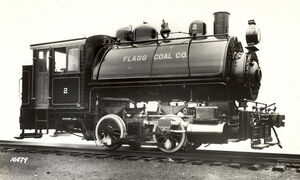 Number 75 was built by the Vulcan Iron Works of Wilkes Barre, Pennsylvania in 1929. Originally built for stock, it was finished to the point at which brakes were to be added. The engine was completed on order of the Flagg Coal Company of Avoca, Pennsylvania, and steam brakes were added. It was put into service in December 1930, as Number 2, and was probably used as a switch engine at one of the mines operated by Flagg Coal Company. The engine was sold to the Solvay Process Company of Jamesville, New York, in 1935. At this time the engine was renumbered from No. 2 to No. 75. It was used to move trains of eight to ten four-wheeled cars from stone quarries to a processing plant. In 1947, through corporate mergers, the Solvay Process Company became Allied Chemical and Dye Corporation. The corporation converted to truck haulage in 1953 and sold all of its steam locomotives to Dr. Stanley Groman.
In the early 1950's, Dr. Groman was developing the Rail City Museum, a tourist attraction and excursion-train venture near Sandy Pond, New York. He purchased fourteen locomotives from Allied Chemical in an all-or-nothing deal. Some of the engines were sold, some were used for excursions, and the remainder were used for display. Number 75 was moved to Rail City in 1954 and sat until John and Barney Gramling found it in October 1991.
John and Barney Gramling had talked about restoring a steam locomotive for several years. They wanted an engine that would be small enough to truck to their family farm in Indiana and which could be operated on a limited scale. At this time (1991) there were still nine engines on the former Rail City Museum grounds. After inspecting all the engines, the Gramlings decided that 0-4-0T No. 75 had the greatest potential for restoration.
Four trips were made to New York to bring No. 75 to Indiana. The first two trips were made with pick-up truck and trailer carrying tools to loosen the boiler from the frame, remove smaller pieces of the engine, and collect extra parts. As it would be necessary to completely dismantle the engine to do the restoration, they was decided to truck No. 75 home in two sections. The semi tractor-trailer made its first trip bringing the boiler with saddle tank while the frame with wheels was delivered on its second trip. Work progressed steadily until August 1996, when the locomotive was successfully test fired. Locomotive Specifications