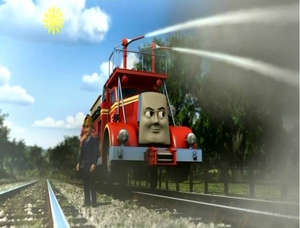 Flynn
is the Sodor Search and Rescue Centre's fire truck who fights fires with Percy and Belle. He is the Main Protagonist of Day of the Diesels.
Allies: Thomas, Edward, Henry, Gordon, James, Percy, Toby, Duck, Donald, Douglas, Oliver, Bill, Ben, Stepney, Harvey, Emily, Rosie, Mavis, Salty, Belle (girlfriend), Hiro, Victor, Kevin, Cranky, Rocky, Butch, Bertie, Bash, Dash, Ferdinand, Stanley, Whiff, Scruff, Stafford, Winston, Charlie, Captian, Owen, Merrick, Connor, Caitlin, Millie, Stephen, BoCo, Murdoch, Paxton, Sidney, Norman, Den, Dart
Enemies: Diesel, Splatter, Dodge, Diesel 10, Arry, Bert, Spencer,
Date of Birth
Appearances
Major Appearances
Season 15 - Fiery Flynn
Season 16 - Race to the Rescue and Welcome Stafford
Season 17 - Too Many Fire Engines and Frozen Turntable
Season 19 - Toad and the Whale and Rocky Rescue
Specials
Cameos
Season 15 - Wonky Whistle and Percy the Snowman
Season 19 - Wild Water Rescue
Merchandising
Trackmaster (Normal and Talking)
Take-N-Play (Normal and Talking)
Wooden Railway
Mega Bloks
Voice Actors
Theme
Flynn's theme is James' Fire theme from the Season 5 episode, Thomas, Percy, and Old Slow Coach, which he shares with Belle.
Counterparts (Thomas Version)
The Other Fire Tug (TUGS)
Asher (Chuggington; both take down fires)
Lobo Wolf, Hodgepodge, Ray the Manta, Big Fluke, or Simpson the Cat (Sonic the Hedgehog)
King Jingaling (Banjo-Kazooie)
Takeshi (Nitrome)
Robin (WarioWare (T,J&H Version))
Mindy's Father (Animaniacs)
Sparkie (Planes)
Fryno (Skylanders)
Firefighter Frank (Barney)
Counterparts (World of Doki Version)
Oliver the Great Western Engine (Thomas and Friends)
Jaller (Bionicle)
Ad blocker interference detected!
Wikia is a free-to-use site that makes money from advertising. We have a modified experience for viewers using ad blockers

Wikia is not accessible if you've made further modifications. Remove the custom ad blocker rule(s) and the page will load as expected.