Jimmyandfriends's movie-spoofs of "Follow That Bird"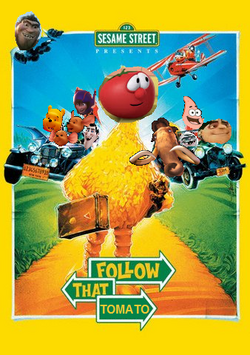 Cast:
Bob the Tomato (VeggieTales) as Big Bird
Dexter (Dexter's Laboratory) as Ernie
Boober Fraggle (Fraggle Rock) as Bert
Wreck-It Ralph as Cookie Monster
Jimmy Neutron as Grover
Jack Skellington (The Nightmare Before Christmas) as Kermit the Frog
Fozzie Bear (Muppets) as Herry Monster
Manny (Ice Age) as Mr. Snuffleupagus
Courage (Courage the Cowardly Dog) as Barkley
Gru (Despicable Me) as Oscar the Grouch
Merida (Brave) as Grundgetta
Dracula (Hotel Transylvania) as Count Von Count
Clam (Camp Lazlo) as Telly Monster
Ad blocker interference detected!
Wikia is a free-to-use site that makes money from advertising. We have a modified experience for viewers using ad blockers

Wikia is not accessible if you've made further modifications. Remove the custom ad blocker rule(s) and the page will load as expected.