Fone's Travels is a parody of Fleischer Studios' Gulliver's Travels. It features Fone Bone, Link from The Legend of Zelda, Mickey Mouse from Disney, Weed Memlo from Animaniacs, and the Earthworm Jim characters playing the characters of the movie. The animation is produced by Film Roman, with animation handled overseas at Sunwoo Entertainment in South Korea.
Cast
Fone Bone as Lemuel Gulliver
Peter Puppy as Gabby
Earthworm Jim as King Little
Evil Jim as King Bombo
Weed Memlo, Psycrow, and Mickey Mouse as Sneak, Snoop, and Snitch
Princess What's-Her-Name as Princess Glory
Link as Prince David
Gallery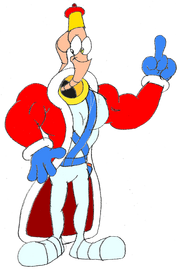 Ad blocker interference detected!
Wikia is a free-to-use site that makes money from advertising. We have a modified experience for viewers using ad blockers

Wikia is not accessible if you've made further modifications. Remove the custom ad blocker rule(s) and the page will load as expected.