Localisation
Capitale : Paris
Gouvernement : République
Dirigeants : Président Nicolas Sarkozy
Population : 69 850 000
        Humains : 60%
        Elfes : 18%
        Nains : 4%
        Orks : 15%
        Trolls : 2%
        Autres : 1%

Revenu par habitant ¥ : 30 500
Sans SIN : 10%
Population en dessous du seuil de pauvreté : 8%
Personnes affiliées à une Mégacorporation : 19%
Monnaie : 1 Euro (€) = 1 Nuyen (¥)

Education :
        Moins de douze ans : 5%
        BEPC : 67%
        Baccalauréat : 20%
        Doctorat : 8%

Principaux groupes ethniques :
        Français : 76%
        Africain : 14%
        Indochinois : 3%
        Slave : 3%
        Autres : 4%

Principaux langages :
        Français : 97%
        Anglais : 30%
        Arabe : 9%
        Breton : 5%

Principales religions :
        Catholique Romain : 63%
        Musulman : 10%
        Druide : 5%
         : %
        Autres : 5%
        Aucune : 17%

[edit]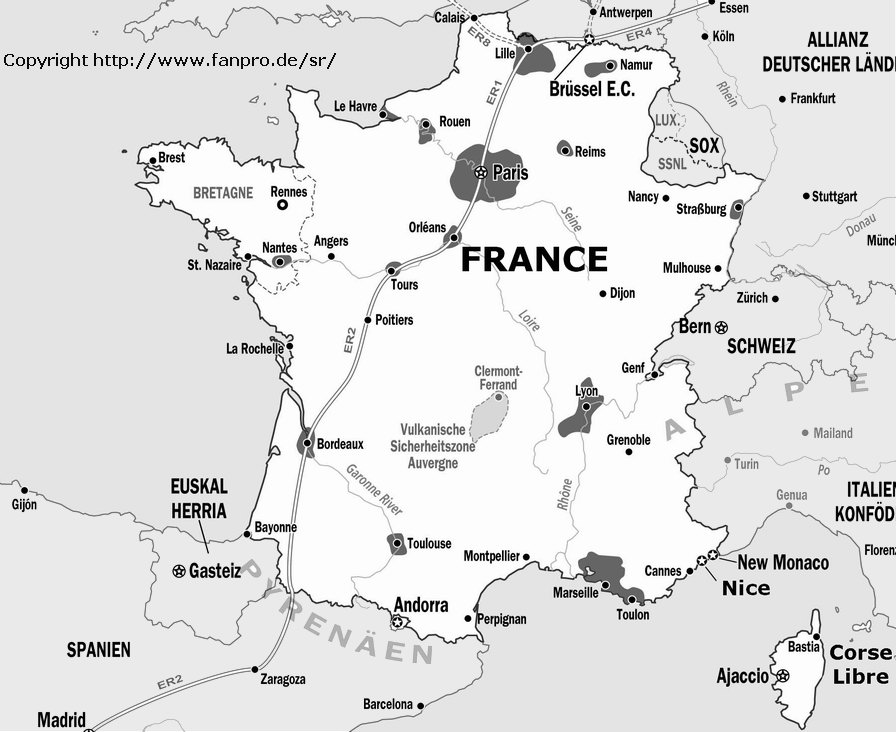 La République française ou France est un pays dont le territoire métropolitain est à l'ouest de l'Europe et possédant plusieurs îles plus ou moins éloignées de la métropole. La France métropolitaine s'étend de la Méditerranée à la Mer du Nord et du Rhin à l'Océan Atlantique. Elle est bordée par le Royaume-Uni, les Pays-Bas, L'Allemagne, la Suisse, l'Italie, Monaco, l'Andorre, l'Espagne et Euskal Herria.
Histoire
Histoire Politique
Evénements du XXIeme siècle
Politique
Institutions
Le Président de la République est élu directement par le peuple pour cinq ans. Il est à la tête de l'exécutif.. Aurélie de Paladines a été élue en 2057 et réélue en 2063. L' Assemblée Nationale est le corps législatif. Le Président nomme le Premier Ministre, généralement le leader du parti majoritaire de l' Assemblée, qui lui soumpet sa proposition pour les ministres.
Les médias font souvent référence au Président et aux ministres en parlant des bâtiments qu'ils occupent ou des rues où sont ces bâtiments.
L' Elysée est pour le Président ; Matignon pour le Premier Ministre ; Bercy pour le Ministre de l'Economie, des Finances et de l'Industrie ; Place Beauvau pour le Ministre de l'Intérieur ; Place Vendôme pour le Ministre de la Justice ; Denfert-Rochereau ou St Vincent pour le Ministre des Affaires Etrangères; Rue de Grenelle le Ministre de l'Education National ; Rue de Valois pour le Ministre de la Culture.
Relations avec l'étrange haie
La France entretien des relations conflictuelles et béliguerante avec son voisin proche, séparé par un bras de mer, le Royaume Unie. En effet ce pays refuse de reconnaître l'existence d'un axe franco-anglais de rapprochement technologique.
Géographie
Economie
Références
Voir aussi
Liens externes
Ad blocker interference detected!
Wikia is a free-to-use site that makes money from advertising. We have a modified experience for viewers using ad blockers

Wikia is not accessible if you've made further modifications. Remove the custom ad blocker rule(s) and the page will load as expected.