[Frangotten] . [Partidas] . Aeris
Aeris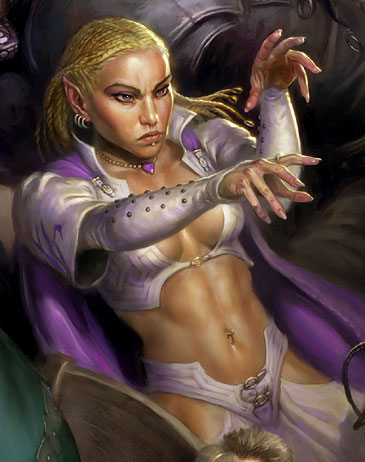 copyrigth of Wizards the Coast, Inc. ® and of Todd Lockwood. Click in the image to see the legal terms of the owners
Descripcion Completa
Raza: Elfa Solar
Alineamiento: CB
Clases: Ilusionista (Nvl 3)
Jugador: Faelh
Descripcion Fisica:
Elfa Solar de 1,85 de altura de apariencia joven, pelo ligeramente ondulado y de color rubio no muy claro, piel bronceada y ojos color miel. Gusta de vestir de ropas vaporosas y ligeras, un poco provocativas de color blanco con algun detalle en azul y amarillo o dorado, lleva unos brazales de aspecto quitinoso de color azul, trabajados con delicadeza y belleza con bordes de oro. Suele llevar un simple baston y un arco que excepto una ocasion solo usa para cazar comida.
Descripcion Psicologica
Siempre intenta llevar un aire alegre y despreocupado. No sufre de la arrogancia innata de todos los solares y procura a tratar al resto de razas como iguales y muestra un interes especial en relacionarse con ellas sin importarle demasiado ser el centro de atencion de miradas extrañadas, de hecho esto último le agrada.
Sin embargo siente un arraigado odio por los Drow y todo lo que tenga relacion con ellos, incluyendo la fe por Eilistrae a la que parecey que guarda un especial rencor. Este resentimiento la hace parece ultimamente en muchas ocasiones frivola, banal y caprichosa, ya que le afecta lo suficiente como para que no pueda aflorar del todo su caracter más amigable.
Un suceso de su paso la marcó lo suficiente como para jurar no causar la muerte de nadie de su propia mano, lo que choca con todos los sucesos a los que tiene que enfrentarse últimamente, y ´que en alguna ocasion la ha llevado al borde de la muerte.
Antecedentes
Vinculada al amuleto desde casi su nacimiento por motivos que no ha relevado y ansiosa por quitarse la carga que ello conlleva. Pero por otra parte el amuleto pareció ser la causa perfecta para dejar atras el asfixiante refugio (segun su opinion)de los elfos solares y llevarla a recorrer el mundo.
Postura ante el entorno
Opinion que le merecen el resto de personajes, pnj's, lugares, hechos
Actos Memorables
Cosas que deben ser recordadas para la posteridad por el o con el (puede ponerse desde su punto de vista)
---
Administrador de este sitio Faelh
Ad blocker interference detected!
Wikia is a free-to-use site that makes money from advertising. We have a modified experience for viewers using ad blockers

Wikia is not accessible if you've made further modifications. Remove the custom ad blocker rule(s) and the page will load as expected.