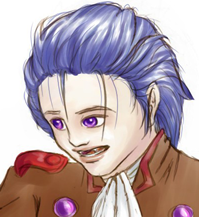 Spoilers: I'm going to stick to Basics for a while, even though they contain spoilers... Maybe come back and do through-the-stories on a second pass...
Basics
AKA: Lord Trondheim, Lin
Age: ~230 (died age ~235, in ToT)
Looks: 6'6", blue hair, purple eyes, troll-demon-elf-goblin.
Character: Assertive, laconic. Strong traditional Trond values.
Family: Eldest son of the first Lord Trondheim (deceased), and grandson of the last Queen of Trondheim (executed). Younger half-siblings Ilya, a priestess at Shinou's temple (estranged), and Ted, a general in the Shin Makoku army. Franklin's mother died of starvation when he was a baby.
Franklin had a breeding agreement rather than a marriage. His co-parent was part troll-ogre, so that Franklin's sons would be troll-resistant. They had two kids, Erick and Vedanya. The children alternated living at Twinhall and Trond Hall (Franklin's domain seat) until their mother died of alcoholism, when the children were about 45 and 30. Erick was trained as Franklin's heir, and succeeded him as Lord Trondheim when Franklin died of breeding "up-troll", about the same time Troll Mother attempted to renew hostilities between Shin Makoku and Trondheim (ToT).
Franklin's Aunt Alana was his co-ruler. He was cross-fostered with her son Aldrich von Bielenfeld, his lifelong best friend.
Franklin inherited Trondheim the same year Adelbert inherited Gratz - at age ~170. These events and men were related, but we still don't know how.
We get to know Franklin better after he's dead (GoT). He was the reincarnation of King Vladimir, Troll Mother's father, the last king of the ancient troll kingdom. It's unclear how much of the ghost's personality is Franklin, and how much Vladimir the Great. Franklin is reincarnated less than a year after his death, as his own grandson Vlad von Trondheim, by miraculous treebirth.
Stories: Major role in The Ghosts of Trondheim. Cameos in Axel, Yuuri's Hot Date, The Trouble with Trolls.
Old Friends - Aldrich's rooftop conference with the ghost of Franklin
Ad blocker interference detected!
Wikia is a free-to-use site that makes money from advertising. We have a modified experience for viewers using ad blockers

Wikia is not accessible if you've made further modifications. Remove the custom ad blocker rule(s) and the page will load as expected.