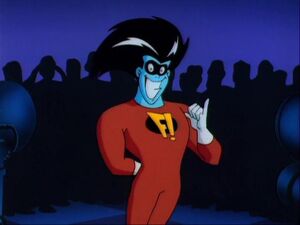 Freakazoid! is an animated television series created by Steven Spielberg, Bruce Timm, and Paul Dini for the Kids' WB! programming block of The WB. The series chronicles the adventures of the title character, Freakazoid, a manic, insane superhero who battles with an array of super villains. The show also features mini-episodes of adventures of other bizarre superheroes. The show, like Animaniacs and Pinky and the Brain, was produced by Amblin Entertainment and Warner Bros. Animation. He voiced by Paul Rugg.
Counterparts
Ad blocker interference detected!
Wikia is a free-to-use site that makes money from advertising. We have a modified experience for viewers using ad blockers

Wikia is not accessible if you've made further modifications. Remove the custom ad blocker rule(s) and the page will load as expected.