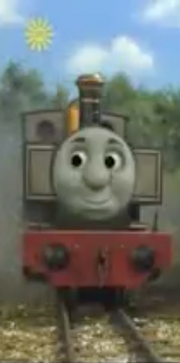 Freddie, a.k.a. Fearless Freddie
is a grey warehorse narrow gauge engine.
Date of Birth
Bio
After many years ago of absence Freddie returned to the Skarloey Railway. Although the reason for his absence is not stated, one can persume that Freddie was on loan to another railway or undergoing an extensive overhaul.
Basis
Freddie is based on Russell, a locomotive from the Welsh Highland Railway in North Wales.
Livery
Freddie is painted grey with black and red lining, and a brass dome. He has black nameplates and number plates with gold writing.
Voice Actors
Appearance
Season 10
Season 11
Season 12
"Mountain Marvel"
"The Party Surprise"
"The Man In The Hills"
The Great Discovery (does not speak)
He was possibly going to appear in the Sixteenth Season but was not used for unknown reasons.
Freddie should be able to reappear in the twenty-third season in full CGI.
Cameos
"Cool Truckings"
"Wash Behind Your Buffers"
Trivia
Fearless Freddie is considered by fans to be the TV Series counterpart to Ivo Hugh from The Railway Series books, as they are both #7 on the Skarloey Railway, the main difference being Fearless Freddie being exclusive to the TV Series and Ivo Hugh being exclusive to The Railway Series books. Both engines, however, have their own Wooden Railway model.
Theme
Freddie's theme is the Skarloey Railway Theme, which he shares with Skarloey, Rheneas, Sir Handel, Peter Sam, Rusty, Duncan, Duke, and Mighty Mac. Sometimes is the Season 9/12 Skarloey Railway Theme
Counterparts (Thomas Version)
Counterparts (Skarloey Version)
Ivo Hugh (The Railway Series)
Grampus or Boomer (TUGS/Salty's Lighthouse)
Dan Jones (Shining Time Station)
Rotor the Walrus (Sonic the Hedgehog)
Chuckie Finster or Phil DeVille (Rugrats)
Martin Prince or Mr. Smithers (The Simpsons)
Dr. Hartman (Family Guy)
Norwood or Paperboy (Wreck-It Ralph)
Sheriff (Cars 1 & 2)
Kermit the Frog (Sesame Street)
Mario (SuperMarioLogan)
Gallery