Free Repair Campaign for Apple 17inch PowerBooks
Talk

1
154,496pages on
this wiki
Short address for this page: http://simurl.com/pb17wiki
Welcome to the Main Page of the
Free Repair Campaign for Apple 17inch PowerBooks mini Wiki
j'ai le même problème, il y a une ligne rose qui apparait sur mon mac G4 sur le côté gauche de l'écran, et elle me gène beaucoup, je ne sais pas c'est à cause de quoi?
I have the same problem, there is a pink line that appears on my Mac G4 on the left side of the screen, and it bothers me a lot, I do not know it because of what?
148.196.2.100 13:47, December 10, 2010 (UTC)grissa ahmed
How can owners of defective 17inch G4 1.67GHz PowerBooks
help Apple to instigate a Display Repair Extension Program?
This is a campaigning Wiki for the hundreds (thousands?) of owners of defective Apple 17inch G4 1.67GHz PowerBooks afflicted by the "Bridget Riley" vertical lines display defect. Already paid for your own repair?
A Display Repair Extension Program will reimburse the repair cost - so please do join in the campaign.
---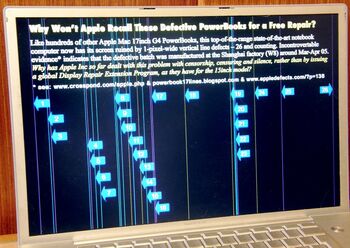 Incontrovertible evidence at a defect database website seems to indicate by correlation that the defective batch of computers was manufactured at Shanghai factory (W8) around Mar-Apr 05.
So why are official Apple Discussions forum administrators using censorship and censuring to suppress public discussions of this problem?
Why has Apple so far ignored this manufacturing defect by failing to even announce an investigation of this problem, pending the kind of Display Repair Extension Program that they have in place for already for the unrelated 15inch G4 PowerBook's "white spots" defect?
How can owners of afflicted PowerBooks take action to persuade Apple to instigate a Display Repair Extension Program?
Look out for green ACTION boxes containing suggestions of actions you can take, and for yellow QUESTION boxes to which you may be able to supply answers for the benefit of other owners of afflicted PowerBooks by editing this Wiki.
---
Censorship note: Some of this Wiki's content was initially posted to the official Apple Discussions forum Apple.com > Support > Discussions > PowerBook G4 17-inch > The PowerBook G4 17-inch Display, only for the administrators to promptly delete it, as they have done with messages and entire threads from scores of other folks with defective PowerBooks - see Apple's Censorship & Censure for more info.
---
Editing note: Since this is a Wiki, you are welcome to add to the content and join in the discussions contained herein by editing. If you're new to Wiki editing, no worries - it's quick, easy and there's plenty of help if you need it, such as the quick editing tutorial you'll find in the navigation box on every page. For more details, help, hints and tips, see Your Contributions, which we look forward to reading.