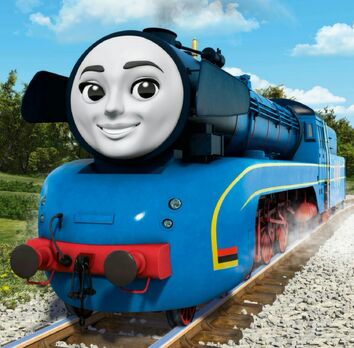 Frieda is a big German engine who participated in [Great Railway Show|the Great Railway Show]. She was a contender in the strongest engine competition.
Bio
Frieda was present when she and the other international engines accidentally arrived on [[1]] instead of [Mainland|the Mainland]. When [[2]] came to the Mainland to bring [[3]] his safety valve, he mistook Frieda for Gordon. Frieda scoffed at this and puffed away to compete in the strength competition alongside [[4]], [[5]], [[6]] and [[7]], but the winner of the competition was left unknown. After the Great Railway Show ended, Frieda left the Mainland and returned to Germany.
Persona
Frieda is a sleek, blue streamlined engine from Germany. Beautiful and strong, Frieda will be entering the Strongest Engine race. She has come to show to prove that anything the boys can do, the girls could do better.
Basis
Frieda is based on the DB Class 10 001. One of the two locomotives is preserved.
Livery
Frieda is painted blue with yellow and red lining and red wheels. She has her number, 409, painted on her tender in red, and the German flag painted on both the sides of her streamlined casing and tender.
Appearances
Specials:
Frieda was also featured in a [the Contenders|Meet the Contenders] segment.
Voice Actors
Trivia
Merchandise
Theme
Frieda's Theme is the Skye Sweetnam song "Fly by the Wayside"
Counterparts