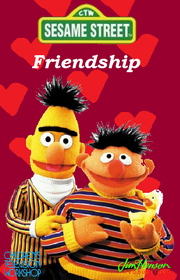 Friendship is a Sesame Street direct-to-video compilation based on pairs of friernds or a group of friends. In this video, Elmo and Zoe play together in the park playing on the slide and all sorts of things. Even some others were invited like Grover, Rosita, Betty Lou, Prairie Dawn, and Telly Monster. Released in May 1997.
Songs'Segments
Pairs of best friends, including Big Bird and Mr. Snuffleupagus, Uncle Wally and Mrs. Trump, and Susan and Gordon, sing "My Best Friend" (EKA: Episode 2474)
Elmo spots four blue monsters playing Wubba Ball, and asks if he can play with them. Britta rejects him only because he's a different color. However, Lila doesn't think fur color should make any difference. And since the wubba ball, she insists tha Elmo should be allowed in the game. The other monsters agree and invite Elmo to join in. Britta looking shocked at being overpowered, turns and walks dejectedly away.
Kevin Clash sings "No Matter What" (EKA: Episode 2782)
Ernie doesn't want to play with Bert, who sings "I Wish I Had a Friend to Play With Me" (EKA: Episode 2122)
Garth Brooks sings "Different" (EKA: Episode 3187)
Joe Raposo sings "Somebody Come and Play" - Snow-leopards version (EKA: Episode 2638)
Bert and Rick Moranis sit next to each other on a plane, and learn that they (and the rest of the passengers) are alike in more ways than they realized. (EKA: Episode 3099)
Alone Song (EKA: Episode 1145)
Cookie Monster sings "What is Friend?" (EKA: Epiosde 2885)
Ernie and Bert sing "But I Like You" (EKA: Episode 1952)
Kermit the Frog tries to explain the difference between happy and sad, two emotions which Elmo displays while trying to get Elmo to play with him. (EKA: Episode 2481)
Grover sings "Still, We LIke Each Other" (EKA: Episode 0445)
Cookie Monster is about to eat a cookie when a sad-looking girl approaches and stares at him. He tries to eat the cookie, but can't do it. He breaks the cookie in half and shares the cookie with the girl. He eats his half of the cookie. When the girl eats her half, she eats it just like Cookie Monster. (EKA: Episode 0730)
Elmo and Zoe watch Jock Soto and Lourdes Lopez to dance ballet, and dance with them (EKA: Episode 3767)
Ernie and Bert sing "Feelin' Good/Feelin' Bad" (EKA: Episode 1164)
A series of trailers for school-related dramas are shown WCTW's "School in the Afternoon" block (EKA: Episode 2494)
Ernie and Bert: Ernie sings to Bert about friends being tolerant of each other's differences, while Bert just wants to sleep. (EKA: Episode 2073)
Credits
Executive Producer: Nancy Kanter
Producer: Karin Young Shiel
Directed by: Todd Kessler
Segment Directors: Robert Myhrum, Lisa Simon, Emily Squires, Jon Stone
Written by: Lou Berger
Segment Writers: Joseph A. Bailey, Sara Compton, Tony Geiss, Jeff Moss, Luis Santeiro, Ray Sipherd, Norman Stiles, John Weidman
Starring: JIm Henson's Sesame Street Muppets, featuring Caroll Spinney as Big Bird, with Kevin Clash, Fran Brill, Frank Oz, Jerry Nelson, Martin P. Robinson, David Rudman, Joey Mazzarino, Pam Arciero, Camille Bonora, Lisa Buckley, Michael Huston, Rick Lyon, Kathryn Mullen, Karen Prell, Caroly Wilcox, Bryant Young, Richard Hunt, and Jim Henson
Cast: Loretta Long as Susan, Bill McCutcheon as Uncle Wally, Roscoe Orman as Gordon, Loretta Tupper as Mrs. Trump
Special Appearances by: Garth Brooks, Lourdes Lopez, Rick Moranis, Jock Soto
Music Director: Robby Merkin
Songs by: David Axlerod, Christopher Cerf, Tony Geiss, Alan Menken, Robby Merkin, Jeff Moss, Sam Pottle, Joe Raposo, Luis Santeiro, John Weidman
"WCTW" Narrated and Directed by: Jon Stone
Production Designer: Victor DiNapoli
Associate Director: Ken Diego
Technical Director: Ralph Mensch
Lighting Designer: Mitchell Bogard
Sound Effects: Dick Maitland
Audio: Blake Norton
Video: Martin Gaujenieks
Cameras: Frank Biondo, Dave Driscoll, Mark Whitman
Special Thanks to: Dulcy Singer, Marjorie Kalins, Cher Jung, Tim Carter, Becky Mancuso-Winding, Sharon Lerner
Ad blocker interference detected!
Wikia is a free-to-use site that makes money from advertising. We have a modified experience for viewers using ad blockers

Wikia is not accessible if you've made further modifications. Remove the custom ad blocker rule(s) and the page will load as expected.