Jimmyandfriends's movie-spoofs of "Fun and Fancy Free"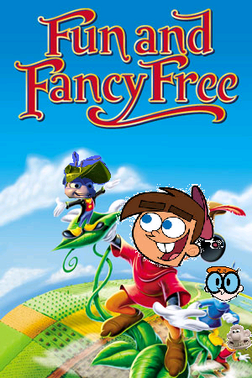 Cast:
Flik (A Bug's Life) as Jiminy Cricket
Wreck-It Ralph as Bongo
Merida (Brave) as Lulubelle
Gaston (Beauty and the Beast) as Lumpjaw
Anna (Frozen) as Luana Patten
Dave Seville (Alvin and the Chipmunks) as Edgar Bergen
Ernie (Sesame Street) as Charlie McCartney
Bert (Sesame Street) as Mortimer Sneerd
Timmy Turner (The Fairly Oddparents) as Mickey Mouse
Dexter (Dexter's Laboratory) as Donald Duck
Wallace (Wallace and Gromit) as Goofy
Ariel (The Little Mermaid) as The Singing Harp
Junior Gorg (Fraggle Rock) as Willie the Giant
Ad blocker interference detected!
Wikia is a free-to-use site that makes money from advertising. We have a modified experience for viewers using ad blockers

Wikia is not accessible if you've made further modifications. Remove the custom ad blocker rule(s) and the page will load as expected.