Gabriel The Great at Wikia
---
[
]
Welcome to the Gabriel The Great mini wiki at Scratchpad!
You can use the box below to create new pages for this mini-wiki. Make sure you type [[Category:Gabriel The Great]] on the page before you save it to make it part of the Gabriel The Great wiki (preload can be enabled to automate this task, by clicking this link and saving that page. Afterwards, you may need to purge this page, if you still see this message).
Gabriel (A.K.A Gabby) is known to many as a very special and somewhat intimidating entity. During the few months he had been studying at the Red Cross Nordic United World College in Norway, Gabriel has managed terrorize his roommates, insult everything that did not appear to be his own reflection and fail the infamous first year math exam.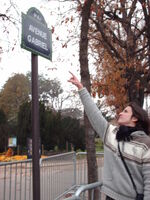 But as his favorite song says, 'don't be fooled' by his rough attitude and general sense of bitchiness. Once one overcomes the initial repulsion, Gabriel turns out to be a very sweet and innocent (though rather lost) soul.
Ad blocker interference detected!
Wikia is a free-to-use site that makes money from advertising. We have a modified experience for viewers using ad blockers

Wikia is not accessible if you've made further modifications. Remove the custom ad blocker rule(s) and the page will load as expected.