Gardevoir
(Gard)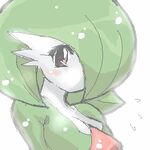 Desempenho
Lutas Oficiais
3
Vitórias
2
Derrotas
1
Aproveitamento
66%
Associado(a) à:
T.P.I.

Gardevoir é uma lutadora do Blast Battle. De todas as lutadoras do sexo feminino do Blast Battle é uma das que tem mais destaque.
História
Vida Pessoal
Gardevoir chamou atenção desde o principio, nos Amistosos do Blast Battle, quando começou. Surgiu no decorrer do Blast Battle IV, juntamente com outros lutadores como Rattata e Dark Heart. Logo no começo, quando veio a participar do topico chat fez amizade com Charizard Pink.
Gardevoir é bastante conhecida por nunca aceitar pretendentes com intensões amorosas. Entre os membros do Blast Battle que Gardevoir ja dispensou estão Gallade, Pedro Meowth e Mudkip.
Atualmente, Gardevoir mantém laços de amizade estreitos pincipalmente com Plusle e Roselia. É associada da T.P.I., Torcida Pokemon Independente.
Blast Battle V
Como lutadora, Gardevoir mostrou ter muito a oferecer. Sua luta de estréia foi contra Roserade, uma das lutadoras que pouco se sabe no Blast Battle. A luta foi considerada uma das melhores da primeira fase. O resultado de Pedro Meowth apontou vitória para Gardevoir com uma diferença considerável diante de sua adversária. Roserade não voltou a aparecer, e o resultado não gerou nenhuma polêmica.
A segunda luta de Gardevoir contra o campeão Grovyle foi a mais demorada da segunda fase do torneio. O Juiz da luta, Plusle encurtou o término da luta se precipitando no resultado, que foi feito sem o 5º Round de Grovyle. Gardevoir venceu, e o resultado da luta, segund Plusle, é um dos motivos para que ele tenha perdido a final na opinião de Red Game.
Já menos otimista, Gardevoir fez sua ultima luta no Blast Battle V contra Porygon 2. Apesar da boa luta, Gardevoir perdeu, segundo o resultado de Hitmontop, e encerrou sua participação no torneio.
Estilo de Luta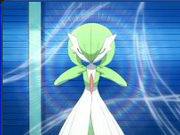 A principal influência de Gardevoir é Charizard Pink, lutadora com melhor desempenho no Blast Battle entre as mulheres. Gardevoir se mantém um pouco presa ao ataque Psiquico para manusear objetos e coisas do ambiente. Gardevoir geralmente mantém distancia do adversário em campo, e se comporta de forma ofensiva. A feminilidade é uma das coisas que mais chama a atenção no modo de lutar de Gardevoir.
Por participar de vários amistosos no inicio, acabou sendo influenciada por lutadores dos amistosos da época do inicio do Blast Battle IV. Apesar de ser um dos membros da T.P.I., Gard, ao lado de Mudkip, é a que menos engloba o estilo unificado de lutar dos outros lutadores do clã, como Porygon 2, Tyrogue, Pingu e Charizard Black.


Habilidades
Movesets de Gardevoir
Blast Battle V:
Teleport
Giga Impact
Psychic
Thunderbolt
Rodapé
Ad blocker interference detected!
Wikia is a free-to-use site that makes money from advertising. We have a modified experience for viewers using ad blockers

Wikia is not accessible if you've made further modifications. Remove the custom ad blocker rule(s) and the page will load as expected.