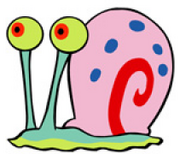 Gary the Snail
is a character from
SpongeBob SquarePants
. He is voiced by
Tom Kenny
.
Counterparts (Do not delete, but you can add)
Puffa/Stanley/Chooch (TUGS/Salty's Lighthouse)
Yankee Doodle Pigeon (Dastardly and Muttley)
Togepi (Pokemon)
Pee Pee Suck 2 (Melvin), The Pig, or Chompy (SML)
Hwoarang (Tekken)
Spunky (Rocko's Modern Life)
Sparky, Baby Poof or Cosmo (The Fairly OddParents)
Jamie Bennett (Rise of the Guardians (2012))
Counterparts (SpongeBob SquarePants Movie Version)

 WARNING: You may add appropriate counterparts. But, do NOT delete any.