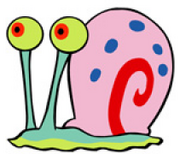 Gary the Snail
is a character from
SpongeBob SquarePants
. He is voiced by
Tom Kenny
.
Counterparts (Do not delete, but you can add)
Puffa/Stanley/Chooch (TUGS/Salty's Lighthouse)
Yankee Doodle Pigeon (Dastardly and Muttley)
Togepi (Pokemon)
Pee Pee Suck 2 (Melvin), The Pig, or Chompy (SML)
Hwoarang (Tekken)
Sparky, Baby Poof or Cosmo (The Fairly OddParents)
Jamie Bennett (Rise of the Guardians (2012))
Ad blocker interference detected!
Wikia is a free-to-use site that makes money from advertising. We have a modified experience for viewers using ad blockers

Wikia is not accessible if you've made further modifications. Remove the custom ad blocker rule(s) and the page will load as expected.