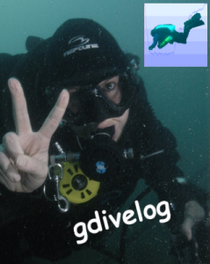 gdivelog is a SCUBA dive logging application for GNOME with an extendable plugin interface to allow data to be downloaded from various dive computers and imported from various other dive logging software.
Current Version
The current stable version is 0.5.1. Version 0.6 is expected to be released around June 2006.
License
gdivelog is released under the GNU General Public License (GPL).
Supported Platforms
gdivelog is designed with linux in mind. However, it has been compiled and executed on OS X, via X11 and Dawin Ports, however is has not been tested extensively by the author.
Obtaining gdivelog
Source code can be downloaded from gdivelog's Source Forge project page.
The author provided Fedora Core 4 RPMs for some releases (0.5.1 and below), however, the author is not going to continue this practise as he is no longer using Fedora and it takes time which is better spent improving the software itself.
Installing gdivelog
See Installing gdivelog, Installing givelog version 0.5.1 or older and Installing gdivelog on OS X.
Supported Devices and Software
From version 0.5.1 plugins are available to download and/or import from the following devices or software:
Suunto Cobra, Mosquito, Spyder, Stinger, Vyper and Vytec
ReefNet Sensus Pro dive logger
Citizen Hyper Aqualand watch
Uwatec SmartTrak
Suunto Dive Manager 2
Reefnet Sensus Pro Manager
DAN DL7
The next release will include, among other things, decompression information, bookmarks and support for download Uwatec Smart computers (including the Aladin Prime and Tec), via IrDA. Support for downloading the Uwatec Aladin and Air range of dive computers, via RS232 serial port, is planned for a later release.
Differentiators
The following features differentiate gdivelog from other dive logging software:
Support for multiple dive computers of different models, brands and manufacturers in the one logbook.
A hierarchical tree structure for dive sites.
Being able to tidy up your dive log by splitting and merging dive profiles
Reference Material
Links
Ad blocker interference detected!
Wikia is a free-to-use site that makes money from advertising. We have a modified experience for viewers using ad blockers

Wikia is not accessible if you've made further modifications. Remove the custom ad blocker rule(s) and the page will load as expected.