GearRockz
LIST OF MOVIES/TV SHOWS/VIDEOGAMES I HAVE SO FAR: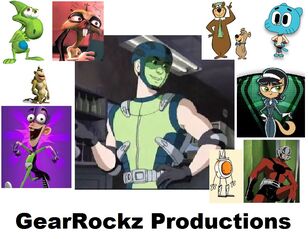 6Teen
Adventure Time
Ben 10
Ben 10: Alien Force
Ben 10: Ultimate Alien
Igor (2008)
Johnny Test
Monsters vs Aliens
Static Shock
The Amazing World of Gumball
The Avengers: Earth's Mightiest Heroes
T.U.F.F. Puppy
Yam Roll
Yogi Bear

A LIST OF PARODIES:

MY FAVORITE CHARACTER:
Gear (Static Shock)
Dudley Puppy and Kitty Katswell (T.U.F.F. Puppy)
Ant-Man and Wasp (The Avengers: Earth's Mightiest Heroes)
The Missing Link (Monsters vs Aliens)
Minion (MegaMind)
Scamper (Igor)
Ad blocker interference detected!
Wikia is a free-to-use site that makes money from advertising. We have a modified experience for viewers using ad blockers

Wikia is not accessible if you've made further modifications. Remove the custom ad blocker rule(s) and the page will load as expected.