Welcome to the Gearpedia mini wiki at Scratchpad!
You can use the box below to create new pages for this mini-wiki. Make sure you type [[Category:Gearpedia]] on the page before you save it to make it part of the Gearpedia wiki (preload can be enabled to automate this task, by clicking this link and saving that page. Afterwards, you may need to purge this page, if you still see this message).
What is Gearpedia?
---
Gearpedia is the mini-wiki that describes the Gear-Clans and shows info about other things such as the creator's careers and stuff, and also to talk about Yu-Gi-Oh! R-City, the fanfiction and give good info.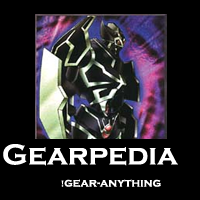 The Gear Clans
---
Gear-Chimp Clan This attributte is led by Hero, also known as the Gearchimp. The Gearchimp, Hero, entered the Chimp Attributte against his will, as he wasn't that good in dueling. As Hero leads the Chimp clan, he still feels shameful that he cannot control his clan in anything, but he's just a leader in the name, and that would be a kind of humiliating to him, by the Gear-Clans' overleader, Mare Octavius. The current members in this clan: Hero (Leader) Bigo Big (Co-Leader) Oni2 (Member)

Gear-Light Clan Led by Mare Octavius, the Gear-Light clan is open for all members in other Gear-Clans to join it and keep in their clan, as twin clan-members. However, to avoid n00blyness, Mare has disallowed the members of the Gear-Chimp clan to join his Gear-Light clan, and especially the Grand Gearchimp, Hero. The current members in this clan (mostly users of Fairy decks): Mare (Leader) Dranx (Co-Leader) Sami (Elite) Goose (Elite) Duel Fox (Member) Bigo Big (Slave)
Gear-Panda Clan As the Gear-Clans started, Dranx made his Gear-Clan Gear-Panda, and was the one to compete the Gear-Chimp clan and won at it, but currently Dranx has no much members. The members: Dranx (Leader) Sami (Co-Leader) Deadie (Member) Mare (Alliance-Member)
Gear-Admin Clan UD, started his Gear-Clan full of admins and GMs of R-City.. and the members are: UD (Leader) Kalajin (Leader #2) Biggie (Elite) Duke (Elite) Soul (Member) Mare (Semi Alliance-Member)
R-CityPedia

What is R-CityPedia? Well, it's the official place where you can know things about Yu-Gi-Oh! R-City. R-City is a fanfic created by Mare on the Duel Monsters Advanced "R" game on BYOND. The fanfiction is published about daily on the forums of DMA-R, and is currently having fans, such as Dranx and Goose.
R-City Plot
---
A virtual city has been opened by the Yugioh business man UD for a secret reason, while a mysterious organization called the Organization of Judgment (led by Mare Octavius) enters the city and gets stuck in in it along with the other duelists there by an unknown dark region. While the Organization seeks for power, duelists challenge them, and the challenges of the dark clan that is seeking for the "Destined Duelist" and the "Destined Duel" challenge all duelists in the city, and they are hunting every duelist that loses the duel to the shadows and make a beast out of him! So watch out, and you better read this fan-fiction!
Read R-City Click this URL: http://z10.invisionfree.com/DuelMonstersAdvanced/index.php?showtopic=1636 Note: This is a Yugioh fan-fiction.
R-City Characters
---
Mare Octavius Real Name: Mare Octavius Age: 21 From: Domino Town Clan/Organization/Society: Organization of Judgment Position: Leader #1 Appearance: Long blue hair and a white leader robe (doesn't cover the head) and blue eyes Description: Mare Octavius is the official leader of the Organization of Judgment, with Dranx as the partner in leading (or Leader #2). Mare's goal is to hunt down enough members for his Organization so he can control over most of the duelists in the new virtual city opened, called R-City (or Raiders City). Mare seems like the evil one, but in fact he never allows any evils to take his place or do something without being allied with them, plus he doesn't concentrate on big goals that would harm much, he only wants to take control and be the real leader. Mare and Dranx share a "Sercet Weapon" monster when they tag-duel.
---
UD (UnknownDuelist) Real Name: --- Age: 25 From: Europe Clan/Organization/Society: R-City Watchers, R-City Leaders Position: Leader Appearance: Handsome man with richy clothes. Description: UD (UnknownDuelist) is the creator, president, and leader of the R-City virtual city project. However, as UD may sound like a rich hippie, he's a good duelist, user of a good strategy and a good leader. Also, he doesn't allow anyone to steal his property or damage it, and he protects R-City with his life, like a hero.
---
Dranx Cheese Real Name: Secret Age: 20 From: Quebec, CA (Not french) Clan/Organization/Society: Organization of Judgment Position: Leader #2 Appearance: Regulary guy with a white tuxedo, small staff, and a white hat. Description: Dranx is the partner with Mare in the leadership of the Organization of Judgment. Dranx is popular with his quote "Cheese" and that is always shown when Dranx's happy or bored. However, Dranx sometimes uses a quote for being angry or not happy, and it's "Cheese Geez!". As Dranx might sound funny by his quotes, he's not funny by his dueling skills. Dranx uses Fairy monsters, perfectly, and uses a "Secret Weapon" when tag-dueling with Mare.
---
Sumizome Senshi Real Name: Katsuya Kinomi Age: ? From: Shadow Realm Clan/Organization/Society: Shadow Knights Position: Elite Appearance: Fully-Armored Dark World Warrior with a helmet and an Archfiend mask Description: Sumizome Senshi is the Shadow Knights elite that is always under the order the Secret Leader of the Shadow Knights, and the one who commands the other Shadow Knights to duel others and do harmful things and other. Sumizome uses a Dark World deck.
---
Goose Real Name: Christian Goose Age: 18 From: Ontario, CA Clan/Organization/Society: Organization of Judgment Position: Elite Appearance: Canadian! Description: Goose is popular with his 2 quotes "Eh?" and "I say", designed to be too familiar to a Canadian talker, as Goose is Canadian and proud. However, as Goose sounds funny and uses his quotes alot, repeatedly, he is a good duelist using a strategy of WIND decks without any Harpies or stuff. He uses his own designed WIND deck.
---
Hero (Gearchimp) Real Name: Lazy "Lololala" Chimp Age: 16 From: Jungles, South Africa (poses as being from Domino Town) Clan/Organization/Society: Organization of Judgment Position: Slave Appearance: (Human): A kinda long haired dork with nerdy glasses (Monkey): A normal chimpanzee but with a talking ability. Description: Hero is a slave to Mare and Dranx in the Organization of Judgment, and has no right to show his opinion greatly or even show it. However, as Hero doesn't stand it like Bigo did, he turns into his real nature, a magical talking chimpanzee that calls itself "Gearchimp".
---
Bigo Big Real Name: Barney Barnes Age: 17 From: Domino Town Clan/Organization/Society: Organization of Judgment Position: Slave Appearance: Random fat man with messy hair and slow mind. Description: Bigo is the loyal slave to Mare, however, he gets prohibited from eating due to Mare's forcing him to diet inoptionally, as Mare says: "You know.. Bigo's that one fatty boy.. if he gets skinny or at least an average weight, and wins duels, and stop staring so stupidly, I would've made him an elite." Bigo uses a High ATKs deck.
---
Duel Fox Real Name: Steven G. Fox Age: 19 From: Essex, EN, UK Clan/Organization/Society: Organization of Judgment Position: Member Appearance: Huge guy, caucasian, and always with a hat and tall leather coat with black clothes. Description: Secretive, and also challenge-accepting, Duel Fox (or Steven) is a good duelist but without a good deck he cannot possibly think to win. At the beginning of the fan-fiction, Steven uses a simple un-strategical Anthro deck, while he starts using a Monarch deck later.
---
Kontatzu and Couric Real Name: -- Age: 18 (both) From: Japan Clan/Organization/Society: -- Position: -- Appearance: (Kontatzu) Fit and skinny jumping guy that has a messy hair and a not bad look on his face (Couric) A normal 18-year-old guy with normal clothes (t-shirt and jeans) Description: Kontatzu and Couric are famous in R-City for being "perverts". Both of them use Amazoness monsters, as they like how do they "look". As Kontatzu and Couric sound extremely perverted, they stand together side by side in duels and anything else.
---
Deadie Real Name: Ryan Age: 15 From: Domino Town Clan/Organization/Society: -- Position: -- Appearance: A random teenager but with casual wear. Description: Funny, fun, and likes to have fun. Deadie is a teenager that likes to keep in action, and he always argues and laughs with Jenny Dickson on her kind-of funny last name. Deadie uses gravekeepers, and appears clearly in the late episodes of Season 1.
---
Jenny Real Name: Jenny Dickson Age: 16 From: Domino Town Clan/Organization/Society: -- Position: -- Appearance: A random female teenager and with long brown hair. Description: Strong, confident, and cheerful, Jenny is the type from the girls that never give up while dueling, and even Deadie says: "Jenny? she's a boy in a female body!"
---
More characters will be updated later.
R-City Custom Decks
---
Each deck includes custom cards, except Bigo Big's and Couric's + Kontatzu's. But those who have decks based on custom strategies made by the creator (me) that's a Custom deck. Mare uses a Light Guardians deck, that is good for avoiding attacks AND attacking. Hero uses an Armored Chimpanzee deck along with few monkey and gorilla monsters, and UD uses a type of Gold Warriors/Beasts. There are also other several characters that use custom decks such as Goose in Season 2, etc. etc.
J.B. Literature
J.B. Literature is a literatue group made by James C.B. (AKA Mare Octavius) and its main goal is to create stories, fanfics, characters, bios, RPG characters, write texts and scenarios for Sims 2 movies and shows produced by its own Sims 2-movie producing group J.B.L Pictures (J.B. Literature Pictues). The J.B. Literature and JBL Pictures have currently released 1 movie called "Alien Invaders: The Replacement" on the internet but it didn't get much success, as the voice actors were "lazy" like the raters and reviewers said. However, the trailer of that movie was 4-starred by reviewers. J.B. Literature, have released several RPG characters and about 6 characters for fanfics free to use, and a turned-down fanfiction that was known as "Flames' Gang."
DJ Main Pain
DJ Main Pain is the DJ nickname of James C.B. (AKA Mare Octavius). DJ Main Pain is a DJ that focuses on remixing music (and he also points that he doesn't release much dance music to public) like Rap, Hip-Hop, Reggae, and other. He doesn't focus on Dance music much, as he doesn't care if he released them in the public it wouldn't be a big deal, he's only producing dance music privately for parties that he's asked to be the DJ in. You can visit DJ Main Pain's official website at http://www.geocities.com/dj_main_pain/ or visit his myspace page at http://myspace.com/djmainpain
Ad blocker interference detected!
Wikia is a free-to-use site that makes money from advertising. We have a modified experience for viewers using ad blockers

Wikia is not accessible if you've made further modifications. Remove the custom ad blocker rule(s) and the page will load as expected.