Geese Howard is a main antagonist from the Fatal Fury series.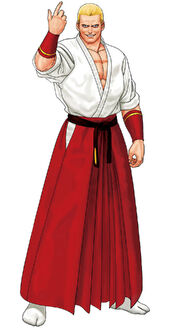 He is a half brother of
Wolfgang Krauser
.
Bio
Friends Axl Hawk Billy Kane Laurence Blood Wolfgang Krauser
Rivals Terry Bogard Andy Bogard Duck King Mai Shiranui Blue Mary Ryan
Counterparts
Devious Diesel (Thomas the Tank Engine and Friends)
Zorran (TUGS)
Dr. Robotnik (Sonic)
Oliver (Theodore Tugboat)
Bowser (Mario)
Heihachi Mishima (Tekken)
Mr. Conductor's Evil Twin (Shining Time Station)
Mr. Rude (Mr. Men)
M.Bison (Street Fighter)
Scott Tenorman (South Park)
Sheldon J. Plankton (Spongebob Squarepants)
Ice King (Adventure Time)
Stewie Griffin (Family Guy)
Sigma (Mega Man X)
Discord (My Little Pony: Friendship is Magic)
Ice King (Adventure Time)
Horrid Henry (Horrid Henry)
Shredder (Teenage Mutant Ninja Turtles)
Hacker (Cyberchase)
Rattles (Arthur)
King Candy/Turbo (Wreck-it Ralph)
Mr. Charles Montgomery Burns (The Simpsons)
Ripslinger (Planes)
Montana Max  (Tiny Toons Adventure)
Ello Gov'nor (The British Taxi) (Regular Show)
Shadow Slammer (Hawaiian Slammer)
Scar (Fullmetal Alchemist)
Captain Hook (Peter Pan)
Macusoper Busters (Go!Animate)
Ad blocker interference detected!
Wikia is a free-to-use site that makes money from advertising. We have a modified experience for viewers using ad blockers

Wikia is not accessible if you've made further modifications. Remove the custom ad blocker rule(s) and the page will load as expected.