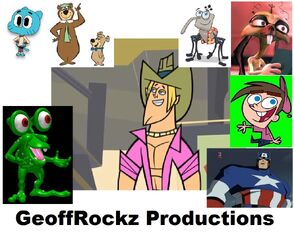 GeoffRockz
LIST OF MOVIES/TV SHOWS/VIDEOGAMES I HAVE SO FAR;
101 Dalmatians
6Teen
9 (Film)
A Bug's Life
A.T.O.M. Alpha Teens On Machines
Adventure Time
Alice in Wonderland
Alienators: Evolution Continues
Aliens in the Attic
Angry Birds
Angry Birds toons
Archie's Weird Mysteries
Arthur Christmas
Alvin and the Chipmunks (TV Series)
Arthur Christmas
Atom Ant
Bambi
Bannertail: The Story of Grey Squirrel
Batman: The Animated Series
Batman: The Brave and the Bold
Bee Movie
Ben 10
Ben 10 Alien Force
Ben 10 Ultimate Alien
Beauty and the Beast
Beauty and the Beast: The Enchanted Christmas
Big Wolf on Campus
Bin Weevils
Bolt
Brother Bear
Brother Bear 2
Bump in the Night
Camp Lazlo
Cars
Cars 2
Chowder
Class of 3000
Cloudy with a Chance of Meatballs (2009)
Code Lyoko
Codename Kids Next Door
Curious George
Dan Vs.
Defenders of the Earth
Despicable Me
Dexter's Laboratory
Dinosaur
Dinosaur King
Fanboy and Chum Chum
Foster's Home for Imaginary Friends
Gogs
Hello Kitty
Hey There, It's Yogi Bear!
How to Train Your Dragon
Hi Hi Puffy AmiYumi
Hokey Wolf
Hop (2011)
Huckleberry Hound
Ice Age
Ice Age 2
Ice Age 3
Igor
Jimmy Neutron: Boy Genius (2001)
John Carter (2012)
Johnny Test
Kong: the Animated Series
Kung Fu Panda
Kung Fu Panda 2
Legend of the Dragon
Looney Tunes
Martin Mystery
Megamind
Minions
Monsters Vs Aliens
Moshi Monsters
Moshi Monsters The Movie
Monster Force
Mucha Luca!
Mummies Alive!
One Piece
Open Season
Open Season 2
Open Season 3
Ozzy and Drix
Pet Alien
Peter Pan
Pinocchio
Planet 51
Pokemon
Pucca
Rio (2011)
Samurai Jack
Skunk Fu
Static Shock
The Amazing World of Gumball
The Avengers: Earth's Mightiest Heroes
The Batman (2004)
The Croods
The Fairly Oddparents
The Incredibles
The Lorax (2012)
The Penguins of Madagascar
The Quick Draw McGraw Show
The Secret Saturdays
The Simpsons
The Smurfs (1981 animated series)
The Smurfs (2011)
The Super Hero Squad Show
The Sword in the Stone
Total Drama Island
Total Drama Action
Total Drama World Tour
Toy Story
Toy Story 2
Toy Story 3
Up (2009)
T.U.F.F. Puppy
Veggietales
Viva Piñata
WALL-E
Wolverine and the X-Men
World of Quest
X-Men
X-Men Evolution
Yam Roll
Yin, Yang, Yo
Yogi Bear

A LIST OF PARODIES:
MY FAVORITE CHARACTER:
Geoff and Bridgette (Total Drama Island) (Geoff's Girlfriends)
Timmy Turner
Johnny Test
Captain America (The Avengers: Earth's Mightiest Heroes)
Mr. Bumpy (Bump in the Night)
Grug (The Croods)
Lt. Lucy Mai (Alienators: Evolution Continues)
Tommy Dawkins (Big Wolf on Campus)
Java the Caveman (Martin Mystery)
John Carter
E.B. (Hop 2011)
Gumball (The Amazing World of Gumball)
Zak Saturday (The Secret Saturdays)
Pucca
Tink (Bin Weevils)
Scamper (Igor)
Yam Roll
Lem (Planet 51)
John Carter
Ad blocker interference detected!
Wikia is a free-to-use site that makes money from advertising. We have a modified experience for viewers using ad blockers

Wikia is not accessible if you've made further modifications. Remove the custom ad blocker rule(s) and the page will load as expected.