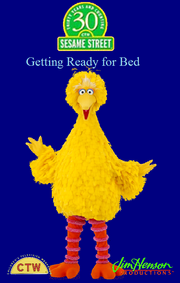 Getting Ready for Bed
is a direct-to-video compilation from Sesame Street. In this video, Big Bird, Snuffy, and Prairie Dawn show what they do when they get ready for bed. Released in 1998.
Segments
Grover Sketches: At night, Grover thinks he hears noises in the dark. When he sees a shadow on the wall, he cowers under the covers - but the shadow turns out to be his Mommy. (EKA: Episode 0677)
Teeny Little Super Guy: The Superguy tells a young boy of the importance of sleep. (EKA: Episode 2913)
Film: A boy is scared to go to sleep at night, until his dad tells him to use his imagination to calm himself down. He conducts a symphony with his toys. (EKA: Episode 3291)
Ernie sings "Dance Myself to Sleep" (EKA: Episode 1707)
Telly sleeps over at Elmo's house, but finds he can't get to sleep. Elmo tells him a bedtime story, about a sleepless monster who gets to sleep by saying "good night" to every part of his body, but it only makes Telly laugh. Elmo then suggests counting sheep, and summons the sheep he keeps in his closet, who jump over the bed and sing a lullaby! (EKA: Episode 3704)
Ernie announces he plans to take a nap, but just as he gets comfortable in bed, Cookie Monster (who was hiding in the bedroom) sneaks up and distracts Ernie with a bell, hoping to steal Ernie's pillow. Ernie investigates, thinking the bell was coming from a fire engine, but he reasons that he would still be hearing the bell if it were that; Cookie quickly hides. Cookie tries his diversionary tactic twice more, with Ernie thinking it is the telephone or the doorbell. The third time, Ernie catches Cookie with the pillow. Ernie tells Cookie he can't have the pillow and demands it back, but Cookie breaks down in tears and says how much he wants the pillow. Ernie suggest that they share the pillow, but Cookie - having the wrong idea - takes the pillow and tears it in half. Ernie cries in frustration as he tosses his now-useless pillow on the floor, while Cookie eagerly begins to eat his half of the pillow. (First: Episode 0035)
Elmo sings about the "Planets, Moon and Stars" (EKA: Episode 3782)
The Count extinguishes electric candles by counting them with his finger. As he heads up the stairs for bed, he steps on Fatatita. He also tells his wolf Yuba to run and play with his friends. (EKA: Episode 0685)
Ernie sings "I Don't Want to Live on the Moon" (EKA: Episode 2396)
Grover and Megan pretend to go to the moon. (EKA: Episdoe 3696)
Cookie Monster sings "If Moon Was Cookie" (EKA: Episode 2619)
Grover pretends that he is on the Moon
Joe Raposo sings "Everybody Sleeps (EKA: Episode 0406)
Ernie and Bert: Bert has gone to visit his brother Bart. Ernie pretends that Bert is still there using a drawing and a pillow, but it isn't the same. Then, Ernie remembers Bert will be back tomorrow, and can go back to bed. (new music added) (EKA: Episode 3122)
Ernie and Bert: Bert is having trouble getting to sleep. Ernie suggests him singing a lullaby to Bert. He sings one to the tune of Brahm's Lullaby and Bert falls into a deep peaceful sleep. Ernie tells Bert to wake up now; it's his turn to go to sleep so it's HIS turn to sing a lullaby now. (EKA: Episode 2614)
Kermit sings "When I Listen" (EKA: Episode 2124)
Credits
Executive Producer: Nancy Kanter
Producer: Karin Young Shiel
Directed by: Emily Squires
Segment Directors: Jim Henson, Robert Myhrum, Neil Smith, Jon Stone
Written by: Christine Ferraro
Segment Writers: Tony Geiss, Jeff Moss, Ray Sipherd, Luis Santeiro, Norman Stiles, Jim Thurman
Starring: Jim Henson's Sesame Street Muppets, with Caroll Spinney as Big Bird and Oscar the Grouch, with Frank Oz, Jerry Nelson, Martin P. Robinson, Kevin Clash, Fran Brill, David Rudman, Joey Mazzarino, Pam Arciero, Brian Meehl, Karen Prell, Bryant Young, Richard Hunt, and Jim Henson
Cast: Roscoe Orman as Gordon
Production Designer: Victor DiNapoli
Costume Designers: Bill Kellard, Terry Roberson
Jim Henson's Muppet Workshop: Ed Christie with Laurent Linn, Rollie Krewson, Stephen Rotondaro, Kip Rathke, Mark Zeszotek
Lighting Designer: Dan Kelley
Songs by: Christopher Cerf, Tony Geiss, Stephen Lawrence, Jeff Moss, Joe Raposo, Luis Santeiro, Norman Stiles, Dan Wilcox
Associate Director: Ken Diego
Graphic Designer: Mike Pantuso
Stage Manager: Frieda Lipp
Set Decorator: Nat Mongioi
Technical Director: Ralph Mensch
Sound Effects: Dick Maitland
Audio: Blake Norton
Video: Tim Cereste
Camera: Frank Biondo, Jimmy O'Donnell, Mark Whitman
Executive in Charge of Production for Sony Wonder: Becky Mancuso-Winding
Special Thanks to: Michael Loman, Carol-Lynn Parente, Dulcy Singer, Sharon Lerner, Jodi Nussbaum, Cher Jung, Tim Carter, Renee Rachelle, Marjorie Kalins
Ad blocker interference detected!
Wikia is a free-to-use site that makes money from advertising. We have a modified experience for viewers using ad blockers

Wikia is not accessible if you've made further modifications. Remove the custom ad blocker rule(s) and the page will load as expected.