Glalie
(Glalie)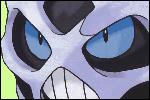 Desempenho
Lutas Oficiais
7
Vitórias
4
Derrotas
3
Aproveitamento
55%
Associado(a) à:
The Ice Ones

Glalie é um dos participantes do Blast Battle, e participou do Blast Battle III, Blast Battle Tag! e Blast Battle IV, lutou ao lado de Snorunt Flakes na dupla The Ice Ones. Glalie foi o autor da vitória contra Pikachu, considerado o pior lutador do Blast Battle.
História
Não se sabe ao certo se Glalie ja havia participado de alguma edição do Blast Battle com outro perfil, ou se ja era conhecido como tal.
Blast Battle III
Glalie estreou no Blast Battle III contra o polêmico Pikachu. Após uma luta onde pouco pode se entender da parte de seu adversário, Glalie ganhou por 100 pontos de diferença em relação a Pikachu, e passou para a segunda fase. Na segunda fase lutou contra Plusle, que vinha de uma vitória facil contra Blaziken. Glalie fez uma exelente luta, más o juiz Pedro Meowth decidiu que quem passaria para a próxima fase do torneio seria Plusle. Assim Glalie encerrou sua participação.
Blast Battle Tag!
Glalie se uniu ao seu parceiro Snorunt Flakes para formar a dupla gelada do Blast Battle Tag!: o The Ice Ones. O time venceu sua primeira luta contra uma dupla forte, o Chocolate de Pedras Voadoras, de Rhyperior e Togekiss. A dupla venceu poe WO Hitmontop e Charizard Pink, do Macumba's Power. Foram para a final, e perderam para a dupla The Hells Kaisers de Infernape e Grovyle.
Blast Battle IV
Glalie fez a sua pior campanha no Blast Battle. Desistindo na sua primeira luta contra Maryan. Há boatos que Glalie desistiu de tudo no BB. E que se deletou depois de ter perdido pra Maryan. Deixando todos sem entender nada.
Blast Battle V
Glalie voltou a participar do Blast Battle na quinta edição. Estreou já com uma vitória inesperada contra Togekiss. Com esta vitória, Glalie prosseguiu para a segunda fase do torneio.
Ataques
Ad blocker interference detected!
Wikia is a free-to-use site that makes money from advertising. We have a modified experience for viewers using ad blockers

Wikia is not accessible if you've made further modifications. Remove the custom ad blocker rule(s) and the page will load as expected.