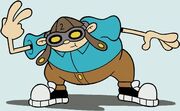 Go, Hoagie, Go! is a parody of Go, Diego, Go! except the kids show is the KND version.
Hoagie can go to places similar to Diego but Kuki helps him on his journeys how adorable is she.
He can also have his backpack similar to Diego's Rescue Pack but his pack can talk in a rich deep voice and he assists Hoagie on his journeys.
His pack can carry almost anything and Dora's cousin Diego can go with Hoagie and learns him to talk to animals that way and he can also be extremely overjoyed.