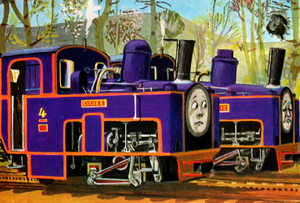 Godred
was a character from
The Railway Series
. He was the Culdee Fell Railway's number 1 engine. He was named after a king. This made him conceited. He never kept a good look-out.
Culdee
warned him to be careful, as he would have an accident one day, but Godred ignored him and thought his automatic brakes would be enough to save him. One day, he fell down the mountain. thankfully, his coach stayed on the rails and was safely braked down the mountain, but he was very badly damaged from his fall. Because the manager didn't have enough money to mend him, he was sent to the back of the shed and his parts were used to mend the other engines. However, whether this really happened or not is debatable, since the narrator mentioned that Culdee made the story up.
Merchandise
Prototype
Godred was based on the Snowdon Mountain Railway's L.A.D.A.S., as they both suffered a similar fate.
Counterparts (Thomas Version)
Bandito (Adventure Time)
Jonathan Frink, Sr. (The Simpsons)
Stanley (Cars)
Pachacamac (Sonic the Hedgehog)
Yukio Mashimi (Teenage Mutant Ninja Turtles)
Counterparts (Mountain Engines Version)
Diesel (Thomas the Tank Engine and Friends)
Zorran (TUGS)
Sea Rogue (Salty's Lighthouse)
Bowser (Super Mario Bros.)
Dr. Robotnik or Shadow the Hedgehog (Sonic the Hedgehog)
The Weasel (Garfield and Friends)
Dick Dastardly (Wacky Races/Dastardly and Muttley)
Montana Max (Tiny Toon Adventures)
The Grinch (Dr. Seuss/The Wubbulous World of Dr. Seuss)
Horrid Henry (Horrid Henry)
Rattles (Arthur)
Sheldon J. Plankton (SpongeBob SquarePants)
Timmy McNulty (Rugrats)
Roger Klotz (Doug)
Mr. Burns (The Simpsons)
Stewie Griffin (Family Guy)
King Dedede (Kirby)
Meowth (Pokemon)
Axel Gear (Rocket Knight Adventures)
King Candy/Turbo (Wreck-It Ralph)
Vezon (Bionicle)
Lord Hater (Wander Over Yonder)
Shang Tsung (Mortal Kombat)
Ad blocker interference detected!
Wikia is a free-to-use site that makes money from advertising. We have a modified experience for viewers using ad blockers

Wikia is not accessible if you've made further modifications. Remove the custom ad blocker rule(s) and the page will load as expected.