Translation : Politician from Mechelen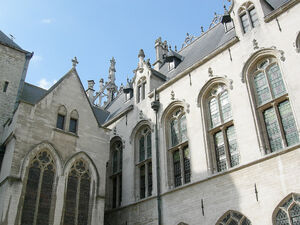 Gommarus – Gommaar – Neefs werd geboren te Mechelen op 29 september 1873 en overleed te Mechelen op 12 december 1920. Gommarus Neefs was een geëngageerd politicus, pionier van de Christelijke arbeidersbeweging en vader van de Mechelse CVP-senator Cyriel Neefs (1899-1976).
Biografie
Gommarus Neefs startte als glasschildersgast in loondienst, doch bouwde een eigen zaak uit als glazenier en loodzetter.
Gommarus Neefs was, tijdens zijn leven, beheerder van de Mechelse Sint-Lambertusvakscholen, wat een voorloper was van de huidige Technische Scholen Mechelen (TSM).
Vanuit de Katholieke Werkmanskring in Mechelen engageerde Gommarus Neefs zich in de mutualistische kringen. Hierdoor werd Gommarus Neefs stichter en schatbewaarder van de Ziekenkas en schatbewaarder van de Herverzekeringskas van de Werkmanskring. Tevens was hij bestuurder van het Ouderlingenfonds van het "Christen Verbond van Onderlingen Bijstand", werd hij verzekeringsagent bij de levensverzekeringsmaatschappij "Antverpia" en was hij – vanaf 1912 tot 1920 – bestuurslid van het Raghenofonds.
In 1911 werd Gommarus Neefs verkozen tot gemeenteraadslid voor de Nijverheidslieden in Mechelen. Hier bepleitte hij – i.s.m. de pioniers van de Christelijke Arbeidersbeweging – voor een eigen werkliedenvertegenwoordiging in zowel het bestuur als in het Bureel van Weldadigheid (voorloper van het OCMW).
Tijdens de Eerste Wereldoorlog vluchtte het gezin Neefs, via Noord-Frankrijk, naar Engeland om in 1915 terug te keren naar Mechelen.
Gommarus Neefs bouwde de Katholieke Werkmanskring uit tot een volwaardige christelijke arbeidersbeweging, later omgedoopt tot Christen Werkersverbond. Dit hield een coöperatie in voor een gezamenlijke aankoop van steenkool en aardappelen, de (her)oprichting van een spaar-en ziekenkas en een pensioenkas en de oprichting van studiekringen, parochiekringen en een sprekersbond. Tevens ijverde Gommarus Neefs voor het samengaan van vrouwengilden en jongerenbonden bij het werkersverbond en dit in samenspraak met de Christelijke vakverenigingen.
In 1920 diende Gommarus Neefs een petitie in voor de vernederlandsing van de Gentse Rijksuniversiteit, doch hij overleed - eind oktober van dat jaar - door een loodvergiftiging, gerelateerd aan zijn beroep. Als 47-jarige liet Gommarus Neefs een gezin met jonge kinderen na.
Externe links
Ad blocker interference detected!
Wikia is a free-to-use site that makes money from advertising. We have a modified experience for viewers using ad blockers

Wikia is not accessible if you've made further modifications. Remove the custom ad blocker rule(s) and the page will load as expected.